Hollywood Squares - Premier Night: Williams. 2 spins. 86-93%
Continuing with the success of this popular game show series, this one boasts a top box display of a grand limo and searchlights shining

Gayle Mitchell is the most recognized female expert of casino gambling and has written extensively and presented seminars about casino gambling since 1996. She is the author of the Casino Gambling Made Easier series of books, numerous E-Books, booklets and the Slots Trilogy. She is also the editor of five online gaming newsletters including Casino Players Ezine. Gayle's website is www.easycasinogambling.com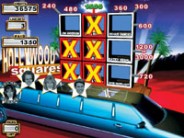 Hollywood Squares Bonus Game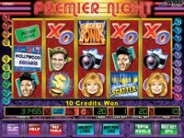 Hollywood Squares Premier Night Slot on bonus numbers.
One of the bonus rounds occur when three or more Searchlight symbols land on an active payline on the right hand reels prompting the Searchlight Bonus.
Searchlights at the top box light up the credit spots eventually stopping on a value up to 500 coins. However, if two searchlights shine on a credit amount and a Double Pay, the reward is doubled. If Bonus spot is lit up or you line up 3 limo symbols, then it's on to the Premier Night Bonus.
The set of TV's Hollywood Squares, a giant tic-tac-toe board is viewed and Joan Rivers via video speaks directing you to pick one of the limo doors or the sunroof revealing the game's nine celebrities. The player receives five picks to win a tic-tac- toe. If one of the celebrities goes to the Secret Square, there is the possibility of more games.
If a Super tic-tac-toe is won, you are prompted to pick one of five boxes for an additional reward of up to 1000 credits.
The scatter pay for this version is for three or more Champagne symbols garnering a win of up to 200 credits depending on your selection.
The spotlight is on you to step right up and play the 'game of the stars'.
WMS Gaming
Corporate Headquarters
800 South Northpoint Blvd.
Waukegan, IL 60085
Phone: 847 785-3000
Fax: 847 785-3058
Website: www.wmsgaming.com

WMS Gaming, also know as Williams, is a leading reel and video slot manufacturer. The company started out in the video lottery terminal (VLT) business in 1991. In 1997, the company premiered what would be, and still is, its most successful video slot machine to date, Reel 'em In¨∆. This multi-coin, multi-line game offered tons of bells and whistles for the slot player. The website provides graphics and details for many of its slots, including Monopoly, Clint Eastwood, Treasure, Quakers, Cool Cat Cash, and many others.