Cool Cat Cash: WMS Gaming. 2-3 spins. 84-95%
Cool Cats abound in this game sporting sunglasses or shiny jewelry as they mix in with the assortment of 'wealthy' icons of cars, cell phones and cool hats.
Three

Gayle Mitchell is the most recognized female expert of casino gambling and has written extensively and presented seminars about casino gambling since 1996. She is the author of the Casino Gambling Made Easier series of books, numerous E-Books, booklets and the Slots Trilogy. She is also the editor of five online gaming newsletters including Casino Players Ezine. Gayle's website is www.easycasinogambling.com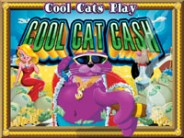 Cool Cat Cash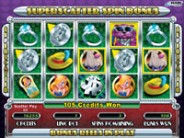 Cool Cat Cash Slot Playing Screen or more Super Scatter symbols will begin the Super Scatter Bonus even where you get 5, 10 or 15 free Super Scatter spins. All wins are paid as scatters and multiplied by the total wager of the first spin.
The main event occurs when three Safe Symbols lands and a grid of 20 safes appears.
Each safe hides either a cash symbol of 250 credits, a gold bar for 125 credits, a ring=75 credits, a money bag=50 credits or a champagne bottle=25 credits.
You are given five selections and the total bonus increases with the value of the icon revealed.
If you get the Award All, all matching symbols are revealed and the total value of all symbols is yours.
If all five Award All symbols are chosen, the total prize award can be 8250 credits at the 25-line version.
The Coolest Cash is reserved for the Hot Hot Top Jackpot of 50,000 coins.

WMS Gaming
Corporate Headquarters
800 South Northpoint Blvd.
Waukegan, IL 60085
Phone: 847 785-3000
Fax: 847 785-3058
Website: www.wmsgaming.com

WMS Gaming, also know as Williams, is a leading reel and video slot manufacturer. The company started out in the video lottery terminal (VLT) business in 1991. In 1997, the company premiered what would be, and still is, its most successful video slot machine to date, Reel 'em In¨∆. This multi-coin, multi-line game offered tons of bells and whistles for the slot player. The website provides graphics and details for many of its slots, including Monopoly, Clint Eastwood, Treasure, Quakers, Cool Cat Cash, and many others.