Lowest Roulette House Edge on the Net!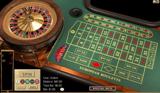 American casinos are well-known for having a high house edge when it comes to roulette. This is because most roulette tables stateside have zero and double zero. When you play European roulette with its one zero, the house edge is cut in half. If you add the special 'en prison' rule that you can find at Intercasino, the edge is cut again, down to 1.35% on even money bets and 2.63% on all other bets. This is by far the best deal you can find on the Net for roulette.
Guide to Roulette
History of Roulette
The 'Little Wheel' has been firing the imagination of gamblers the world over for over 200 years. ReadyBetGo's Guide to Roulette will help you understand and master this deceptively simple game.
American Roulette
In most casinos in the United States you will be playing American Roulette. Basil Nestor takes you through the layout and bets in this article.
European or French Roulette
European roulette (sometimes called French roulette) is similar to the American version, but the European contest has a few distinct differences. The biggest difference is that there is no double-zero on the wheel. This cuts the house edge down to 2.7 percent.
The Flow of Roulette
Before we get to the best bets in roulette, let's take a quick look at the flow of the game.
Roulette Betting Systems
Even though roulette has a wide variety of betting options, the house edge is the same for almost every bet. That's the roulette paradox. Let's see why in this article.
Squeezing and Stretching Risk at Roulette
Roulette's house edge is unyielding, but squeezing and stretching risk is quite easy. Here are some more roulette betting systems.
Beating Roulette Strategies
How can you cut the house edge at roulette? The answer is simple - find the right table. Here's what to look for if you want a better deal when you play.