LuckyAce Casino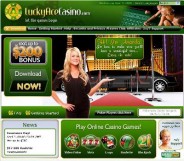 LuckyAce Casino is a new white-label casino that uses 888 software, the same platform that powers one of the oldest and most respected online gambling sites on the web, Casino-on-Net. LuckyAceCasino.com has all the most popular games including: BlackJack, Craps, Video Poker, Roulette, Keno and over two-dozen slot machines with better odds than a Las Vegas casino room. LuckyAce Casino does not accept US players.

The Poker Channel Europe
Check out the official website of The Poker Channel Europe for television game listings, clips from poker tournaments and upcoming events.
LONDON, England -- The Poker Channel, Europe's largest dedicated gaming TV network, announces its first significant move into Eastern Europe today through a distribution agreement with the Vectra


Group, the second largest cable operator in Poland.
Launching a promotional campaign to all Vectra's digital basic subscribers on Friday 30th January, this is first carriage agreement for The Poker Channel in Eastern Europe, and marks the continued rise in popularity of the game in the region. The Poker Channel is now available to 16,000,000 cable and satellite homes in 17 European markets.
The new agreement follows this month's announcement by Gaming Media Group, parent company to The Poker Channel, of its results for the year ended 31st October 2008. The Group doubled its TV advertising revenues, and achieved a 57% increase in Group revenues overall taking into account casino, bingo, and TV advertising. Profit before Tax has also grown by four times to £1 million.
Programming highlights for its launch into Poland includes the PokerHeaven European Cash Game, a high stakes cash game featuring celebrated poker pros such as World Series of Poker winner, Peter Eastgate; the Cash Game Master Class, the first ever 'how to' series for cash game poker; the World Series of Poker and the World Poker Tour.
Chris White, Commercial Director at The Poker Channel said "Our expansion in to Eastern Europe further illustrates the growing demand for poker and gaming on TV. We are delighted to partner with Vectra Group and look forward to delivering quality programming to its thousands of customers."
Malgorzata Wojtaszko, TV Product Manager, Vectra Group said "As the game's popularity continues to grow, we're delighted to be the first platform in Poland to launch The Poker Channel, and offer subscribers of our new sports package the very best poker action from around the world."
The Channel attracts close to one million unique viewers per month across Europe, with 65% of its viewers playing poker online every day.