After winning a record-setting $12 million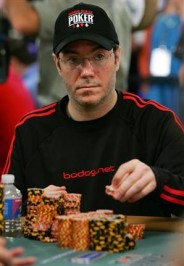 Past champion Jamie Gold was eliminated in an early round of the 2007 World Series of Poker. top prize, besting a field of 8,773 in last year's world championship event, Gold, a 38-year-old Hollywood producer, was sued in federal court by a fellow poker player who claimed he agreed to split any winnings.
The two settled the dispute in February, but Gold ran into more hot water for acknowledging he violated rules governing tournament play.
In an interview with Las Vegas freelance journalist Steve Friess that appeared in The New York Times, Gold admitted he flashed his hole card to an opponent and told another opponent about one of his hands.
Under the tournament's rules, Gold could have been forced to sit out play for 10 minutes.
Last week, World Series of Poker officials said Gold would not be punished retroactively for the violations, but they said they had spoken to him about the matter.
"I do want to stress, however, that we do not condone any violations of the rules," World Series of Poker Commissioner Jeffrey Pollack said in a statement.
***
The Pechanga casino in Temecula, Calif., about a four-hour drive south of Las Vegas on Interstate 15, could expand to 7,500 slot machines from its current total of 2,000 games.
The Pechanga Band of Luiseno Indians has signed an agreement with Republican Gov. Arnold Schwarzenegger to expand the casino, but approval has stalled in the Democratic-controlled legislature.
The roadblock, which has halted the addition of more than 22,000 slot machines to the California Indian gaming market, could be soon lifted.
A Democratic state senator is sponsoring legislation that could help Pechanga increase its casino floor and pave a path for other tribes.
"Sponsorship by a Democrat and the passing of the November 2006 elections may help increase the chances of the compact's ratification," Bear Stearns gaming analyst Joe Greff said. "Ratification of this and other new compacts would be a positive for gaming manufacturers, particularly International Game Technology."
***
Nevada Gaming Commission member Art Marshall is becoming the panel's Henny Youngman. Marshall never hesitates to drop a one-liner when the moment presents itself.
During a recent hearing, Las Vegas attorney Ellen Whittemore said that on company matters, MGM Mirage Chairman Terry Lanni "has the final say on everything."
"Not according to Mrs. Lanni," Marshall quipped.
The Inside Gaming column is compiled by Review-Journal gaming and tourism writers Howard Stutz, Benjamin Spillman and Arnold M. Knightly. Send your tips about the gaming and tourism industry to insidegaming@reviewjournal.com.