LAS VEGAS -- Bodog.com-sponsored poker player Jamie Gold has won the largest and richest game in poker history, the Main Event of the
2006 World Series of Poker
. Gold was unprecedented in his dominance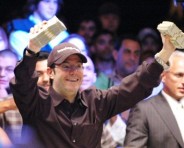 Jamie Gold won the WSOP Championship and has now settled his prize money dispute.
of the field as chip leader for an incredible four days of the tournament.
Gold, a former Hollywood agent turned television producer from Malibu, Calif., amassed a commanding chip lead during the first eight days of the tournament and sat down at the final table with a whopping $26,650,000 in chips -- $8.88 million more than his nearest competitor.
Gold, who had held the lead in the tournament since last Friday, won the first pot of the day and knocked out Dan Nassif shortly thereafter, setting the stage for a dominating performance to close the two-week event. After an exciting 14 hours of play, he knocked out the rest of the field, including top poker pro Allen Cunningham.
Gold's $10,000 entry into the Main Event was provided by Bodog.com, the online gaming giant and leading digital entertainment brand. Today, he competed against the eight players who remained from a field of 8,773 for an unprecedented first-place prize of $12 million and the coveted
gold championship bracelet
.
After winning poker's largest ever tournament and its prestigious bracelet, an elated Gold said, "I can't believe it, I am very happy. It started off tough, but once I felt in control, I realized that if I continued to play my game, I would be very hard to beat." He added, "This wouldn't have been possible without the support of my friends and family along with the members of Team Bodog."
Gold's two-year endorsement deal with Bodog.com not only includes the standard tournament buy-ins and promotional appearances, but also a $1-million television production deal. The deal also includes a Jamie Gold table on Bodog.com, where Gold will play frequently, enabling other Bodog players to go up against the WSOP champ.
"Jamie truly epitomizes the Bodog spirit. We are incredibly proud of his achievement and thrilled by his performance in the tournament," said
Calvin Ayre
, Founder and CEO of Bodog.com. "This was the most exciting and dominant performance since the WSOP has grown to its current size, fueled by poker's ever growing popularity."
More than 500 players qualified to the various WSOP tournaments by playing poker online at Bodog.com. Gold was among the 400 Team Bodog players participating in the Main Event. Originally from Paramus, N.J., the 36-year- old former agent has represented a number of A-list celebrities, including James Gandolfini, Felicity Huffman, Lucy Liu and Brandy. Gold quit being an agent six months ago and is now the head of production at Buzznation, a branded entertainment media and production company based in Los Angeles. Gold is currently in development on a branded reality television series.
An avid poker player, Gold grew up in a family of card players, with his mother a longtime poker player and his grandfather a gin rummy champion. Gold plays close to 40 hours a week in Los Angeles-area card rooms and in the 15 months prior to the Main Event had earned just under $100,000 in tournament winnings. Gold has also had the opportunity to learn from one of the game's most heralded players -- 10-time WSOP bracelet holder Johnny Chan. The two men met while working together on a poker television concept. In exchange for Gold's assistance, Chan promised to help him refine his game. Both Gold's mother and Chan were at the WSOP cheering him on.
But even with his poker pedigree and legendary mentor nearby, it is the person who cannot be with Gold in Las Vegas that provided the most strength and motivation for him -- his father.
Gold's father, Dr. Robert Gold, has ALS, better known as Lou Gehrig's Disease, which makes him immobile. According to Gold, the money he has won at the Main Event will go toward making his father as comfortable as possible.
"He's not well and unable to travel," Gold said of his 76-year-old father, "This is all for him."
Do you have the skills to become next year's WSOP champion? To learn more about qualifying for major poker tournaments, including the WSOP 2007 Main Event, visit Bodog.com.
Bovada is an offshoot of Bodgo,one of the most recognizable and popular betting and gambling sites on the Internet. It is a casino that offers US citizens a place to gamble online.