SCOTTSDALE, Arizona -- Put on your best poker face and head for the nearest TV! Go Daddy -- the world's dominant Web hosting domain registrar -- is bringing one of the most exciting and audacious poker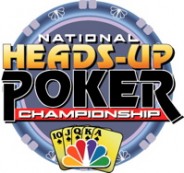 championships into your living room starting this weekend.
Go Daddy sponsors NBC's broadcast of the National Heads-Up Poker Championship. The tournament is scheduled to begin airing on NBC Sunday at Noon ET and airs each Sunday through May 17.
In this tournament, Go Daddy has a true ace up its sleeve. In early March, the Internet powerhouse unveiled a new Go Daddy Girl to the world, Vanessa Rousso , Team PokerStars Pro. Rousso is not only the world's hottest female poker player - she has already earned in excess of $2MM playing poker professionally and battles some of the biggest names in poker for the 'big bucks' in this one-on-one competition.
"Vanessa is, as they say, all in with Go Daddy baby," Go Daddy CEO and Founder Bob Parsons proclaimed while watching Vanessa play in Vegas. "She brings everything you'd want to the table -- she's intellectually brilliant, sexy and as savvy a poker player as you're going to see."
Rousso is among this tournament's 64 players -- which include the world's best poker professionals and card savvy celebrity guests. It's a virtual who's who of poker vying head-to-head for a cool $1.5MM in combined prize money.
"We couldn't be more pleased to have GoDaddy.com as our presenting sponsor for this amazing event," said Jon Miller, executive vice president of NBC Sports. "Everyone knows Go Daddy only aligns itself with major sporting events and we are thrilled to be partnered on our National Heads-Up Poker Championship."
Go Daddy filmed special poker-themed commercials in Las Vegas which are set to air during the Go Daddy sponsored broadcasts on NBC. Look for new Go Daddy Girl Vanessa Rousso, Team PokerStars Pro, to be featured in the ads with Go Daddy Girl and IndyCar Series' most popular driver, Danica Patrick, original Go Daddy Girl Candice Michelle and Go Daddy's CEO and Founder Bob Parsons. You can 'bet' this quintessential GoDaddy-esque ad has a cliffhanger and will push viewers to see the rest of the edgy storyline at www.GoDaddy.com.
Beyond its aggressive advertising, Go Daddy is expanding sponsorships -- in many arenas -- while most U.S. companies tighten belts and pull back their marketing. Just two weeks ago, during an LPGA tournament in Phoenix, Go Daddy introduced professional golfer/model, Anna Rawson, as its fourth Go Daddy Girl.
Go Daddy is a world leader in domain registration, Web site hosting , new SSL certificates, as well as offering Web site design, Go Daddy Marketplace -- an online shopping mall where Go Daddy leverages its popular global Web site to showcase customer products -- and Go Daddy Quick Shopping Cart, recently voted most popular shopping cart in a survey by Practical eCommerce.
To learn more about getting on the Internet easily and without spending a lot of money, go to www.GoDaddy.com