32 Vegas Top Spot for Gamblers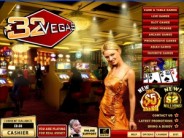 32 Vegas has a huge variety of slot machines, enough to satisfy any slot fanatic. The casino has over 30 video and classic slots to choose from including 7 progressives. You can play as little as a penny per spin all the way up to $5 per line. There are 2,3,5,8, and 9 line slots. Some of the outstanding video slot titles are Gold Rally, Vacation Station and Desert Treasure. Popular classic slots include Fountain of Youth, Bermuda Triangle, and Haunted House. With great variety, fantastic graphics, and innovative themes, 32 Vegas slots are a good thing.
Roxy Palace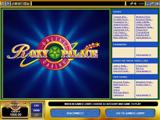 Roxy Palace is the most popular Microgaming software casino in the world today. With excellent customer support, a wide variety of slots and games, and generous bonus rules, Roxy Palace has earned its recommendation as one of ReadyBetGo's favorite casinos. The site is constantly adding new slots and games and now features Single Deck Blackjack. For a rewarding online experience, try Roxy Palace. Currently, Roxy Palace Does Not Accept US Players.
SAN JOSE, Costa Rica -- Flying off to exotic locations to play in the world's finest poker tournaments isn't just for the poker pros you see on television. Thanks to Bodog, amateur players

Bodog Home Page can now join the club—the Bodog Flight Club, that is—for as little as $1. Right now in the Bodog Poker Room, the online poker powerhouse is giving away at least one Bodog Flight Club Package a month to major tournaments in Europe, South America and North America, with most events featuring prize pools over a million dollars.
Winners of a Bodog Flight Club package receive buy-in to the main event, travel expenses, spending money and instantly become a member of Team Bodog, complete with loads of Bodog gear and articles written up about their progress so friends and family can follow results from home.
"Take it from me, it doesn't get any better than playing in a major tournament in an exotic location as a member of Team Bodog," says Bodog Poker Pro David Williams. "The Bodog Flight Club is a once in a lifetime opportunity to compete for serious money against the best in the world, all while having an adventure only Bodog can deliver."
The next Bodog Flight Club departure is the LAPT event in Punta del Este, Uruguay, held Mar. 18-20. Qualifiers are running daily at Bodog Poker for as little as $1 or 100 Bodog Poker Points, and all lead up to the LAPT Uruguay Semifinal event on Monday, Feb. 16 at 9:00 p.m. EST, where at least two Bodog Flight Club prize packages to the LAPT Uruguay are guaranteed. The winners will join Bodog online player "Nate Avenson", who will be heading off to Uruguay in Bodog style after winning a prize package during Bodog's Super Bowl Special tournament.
Next up after Uruguay will be the "Flight Club - San Remo" event on Monday, Mar. 16 at 9:00 p.m. EST, where at least two more Bodog Flight Club prize packages are guaranteed to the event in San Remo, Italy, held Apr. 18-23.
Not already playing poker at Bodog? Being new has its rewards as Bodog is giving all new players automatic entry into six exclusive qualifiers for the Sunday $100,000 Guaranteed tournament. Each week 25 seats will be given away for $100,000 qualifying tourneys.
The Sunday $100,000 Guaranteed is Bodog's big weekly tournament, and it is back from its break over Super Bowl weekend when Bodog hosted a special Sunday tournament for its players. A total of $20,000 in added prize money was awarded, or approximately $50 added per player, proving once again that no other online poker site gives its players greater value for their tournament dollars.
Bovada is an offshoot of Bodgo,one of the most recognizable and popular betting and gambling sites on the Internet. It is a casino that offers US citizens a place to gamble online.