LAS VEGAS — As reported by Chron.com: "It's back to the buffet, bargains and customer bonuses for Las Vegas casinos.
Fast food is up, fine dining tabs are down and hotel rooms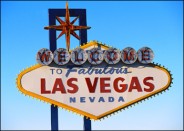 are available for less than $50 in a city that has been calling on recession-weary tourists to come back and play the quarter slot machines.
Value is the hippest thing on Las Vegas Boulevard this year.
And as hotel-casinos from one end of the Las Vegas Strip to the other lowered rates, visitors returned to cash in. In January, occupancy citywide dropped to about 72 percent, far below the 90 percent-plus normally enjoyed by Las Vegas hotels. By March, occupancy rose to 85.9 percent — and 92.5 percent on weekends.
Executives say changing customer demands affect every hotel-casino, from the $159 per night Wynn Las Vegas to the Imperial Palace, where rooms can be found for $34 per night.
The Imperial Palace is selling a package that includes a one-night stay with all meals at its buffet and a cafe and all drinks at casino and pool bars for $95.
The Luxor has used Twitter to push a $35 one-day pass to its buffet. Other MGM Mirage hotel-casinos offer all-day buffet tickets, and the Luxor's includes beer, wine and champagne.
Even Michelin-starred restaurants where dinner tabs run to $100 per person are offering fine dining at reduced, fixed rates.
The three-star Joël Robuchon at the MGM Grand is known for its $385 16-course meal and a $225 six-course option. But it recently debuted another menu for $89.
For those on a tighter budget, enough inexpensive fun exists here to fill a trip without stinging stakes. Examples: $49 rooms this month at the Golden Nugget (plus a coupon book worth more than $250 in resort discounts), slow-paced poker games, and free attractions, from lion-watching to a man-made volcano..."