LAS VEGAS, Nevada -- As reported by the Las Vegas Sun: "The Strip's largest casino operator last week reported an uptick in room bookings and fewer convention cancellations. MGM Mirage executives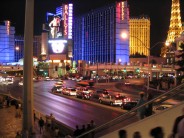 said demand for the company's hotel rooms is high enough to warrant an increase in room rates, which have plummeted during the downturn.
Raising rates in the coming weeks will help profit margins and could lead to a minor business rebound in 2010, they said.
Whether that strategy works will depend on the reaction of recession-battered tourists such as Judy Del Vecchio, 51, an advertising employee who paid $631 for a five-night stay with her husband in a suite at the Monte Carlo last week.
"This recession has scared people — they have a whole different way of thinking," Del Vecchio said during a break between fountain shows in front of the Bellagio. "They'll come if they know they're getting a bargain.
"If they keep rooms low, people will come out here and get lost in all this and spend money they never thought they'd spend."
Like most Las Vegas tourists, Del Vecchio is loyal visitor — to a point.
When the economy was flush, it wasn't unusual for luxury hotels in Las Vegas to charge $500 for a room during the workweek. That was too much for Del Vecchio, who lives a short drive from the nation's largest casinos, Foxwoods and Mohegan Sun, in Connecticut.
As room rates rose, many regulars accustomed to paying less ditched Vegas for cheaper alternatives such as cruises and all-inclusive resorts in Mexico and the Caribbean. Some have returned, lured by low rates and more marketing by hotels trying to fill the weekday void left by conventiongoers, whose business event budgets have dwindled.
The strategy has worked well for companies, including MGM Mirage, which owns most of the Strip's major casinos.
"The weekends are consistently solid now," MGM Mirage CEO Jim Murren said during a conference call last week to discuss first-quarter earnings. "Even when we don't have a major event we are able to occupy rooms at a solid level..."
MGM MIRAGE
3600 Las Vegas Boulevard South
Las Vegas, NV 89109
Phone: (702) 693-7120
Fax: (702) 693-8626
Website: www.mgm-mirage.com

MGM MIRAGE is one of the world's leading gaming companies. It owns and operates 24 properties located in Nevada, Mississippi and Michigan, and has investments in four other properties in Nevada, New Jersey, Illinois and the United Kingdom. MGM MIRAGE has also announced plans to develop Project CityCenter, a multi-billion dollar mixed-use urban development project in the heart of Las Vegas, and has a 50 percent interest in MGM Grand Macau.