LAS VEGAS, Nevada -- As reported by the Vegas Sun: "A business model gaming companies have followed for decades has turned into a precarious balancing act, as casinos slash room rates to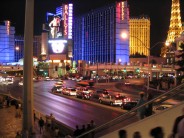 levels not seen in more than a decade.
Cheap rooms have been a fail-safe way for gaming chiefs to fill their casinos with gamblers and keep profits up in down economic times. But some Strip resort operators are learning that cutting room rates in this economy can take a greater toll on the bottom line than having fewer gamblers at the slot machines.
Recent earnings reports from MGM Mirage — a barometer for the overall health of the Strip — show as much. The company's budget and mid-level properties reaped big returns from inflated hotel rates during the boom, but those properties' lower room rates are now dragging down the company's profit margins.
In an interview last week, MGM Mirage CEO Jim Murren said about 70 percent of the company's decline in year-over-year earnings in the fourth quarter resulted from lower room revenue and profit.
Every percentage-point drop in hotel occupancy costs the company $3 million in profit per month. At the same time, every $5 reduction in average hotel rates costs nearly $6 million in profit per month.
"There's an enormous amount of operating leverage, positive or negative, because of the rooms department," Murren said..."
MGM MIRAGE
3600 Las Vegas Boulevard South
Las Vegas, NV 89109
Phone: (702) 693-7120
Fax: (702) 693-8626
Website: www.mgm-mirage.com

MGM MIRAGE is one of the world's leading gaming companies. It owns and operates 24 properties located in Nevada, Mississippi and Michigan, and has investments in four other properties in Nevada, New Jersey, Illinois and the United Kingdom. MGM MIRAGE has also announced plans to develop Project CityCenter, a multi-billion dollar mixed-use urban development project in the heart of Las Vegas, and has a 50 percent interest in MGM Grand Macau.