by Howard Stutz
Las Vegas Gaming Wire
LAS VEGAS, Nevada -- Phil Ruffin's return to the casino business cleared its first hurdle Wednesday morning.
The Gaming Control Board took 20 minutes to approve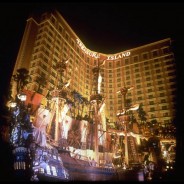 Ruffin's $775 million purchase of Treasure Island from MGM Mirage, sending the matter to the Nevada Gaming Commission for a final ruling on March 19. Ruffin said he will close the transaction on March 31 if he receives approval from the commission.
"The gaming industry needs individuals like Mr. Ruffin," Control Board Chairman Dennis Neilander said. "He has a forward-thinking and long-term approach."
Ruffin, 73, owned the now-demolished New Frontier for almost a decade before selling the 35-acre site for $1.2 billion in July 2007. He spent the next year-and-a-half contemplating a return to the casino business.
Under terms of the transaction, Ruffin will pay MGM Mirage $500 million when the deal closes and $275 million over a two-year period at a 10 percent interest rate. The first $100 million will be due in six months after the deal closes.
Ruffin told gaming regulators he plans no physical changes to Treasure Island. MGM Mirage will operate the race and sports book for at least six months and Ruffin will change over the player tracking program to his own system. The current management team will remain in place but he will also bring in hotel operations employees.
Ruffin said the purchase is different from when he acquired the New Frontier, which was rundown and in the midst of a 2,325-day strike by the Culinary union. He had to spend millions on top of his $167 million purchase price to clean up the property.
"(MGM Mirage) just spent $84 million to redo the rooms and everything," Ruffin said of the 2,885-room hotel-casino that was originally built by Steve Wynn.
Ruffin told gaming regulators he always desired the 20-acre Treasure Island site at the corner of the Strip and Spring Mountain Road, but he never thought MGM Mirage, which acquired Treasure Island as part of its $6.4 billion buyout of Mirage Resorts in 2000, would sell the hotel-casino.
However, he quickly negotiated a deal with MGM Mirage majority shareholder Kirk Kerkorian and company Chairman and CEO Jim Murren in December.
The sale will reduce the number of casinos MGM Mirage controls on the Strip to nine. The company is building the $9.1 billion CityCenter development and is reportedly shopping other hotel-casinos to potential buyers.
On Tuesday, MGM Mirage said it needs to renegotiate repayment terms with its lenders covering some $7 billion in loans or else the company could wind up in default on its senior credit facility.
MGM Mirage CFO Dan D'Arrigo told the control board the company has taken several steps to bolster its financial position, including selling Treasure Island.
"These transactions inject vital financial liquidity into our business, allowing us the flexibility to continue facing the challenges before us," D'Arrigo said.
Ruffin said he had planned to build a 3,000-room resort on the site of the New Frontier for $2.7 billion. He killed the idea because of the cost and then sold the entire site to New York-based Elad Group.
"This is obviously a much better deal," Ruffin said. "I like the cost for the same number of rooms."
The economy played havoc with Ruffin's investments in the past year and he views Treasure Island as a long-term deal.
"I know sales have been off and it will be tough for awhile," Ruffin said, "but going forward, I think we'll do well."
Treasure Island Resort & Casino
5734 Sturgeon Lake Road
Welch, MN 55089
Toll Free Phone: 800.222.7077
Email:
info@ticasino.com
Website: www.treasureislandcasino.com
Treasure Island Resort & Casino has 2,500 state-of-the-art slot machines, 44 blackjack tables, video poker, video keno and bingo. It is open 24 hours a day, 7 days a week.