LAS VEGAS, NV -- Titanic: The Artifact Exhibition will open at Luxor Hotel and Casino in Las Vegas December 20, 2008. Newly designed for Luxor, this blockbuster exhibition brings to life the story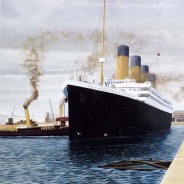 Titanic, the Artifact Exhibit will be on display at the Luxor in Las Vegas
of the ill-fated Ship through its authentic artifacts, dramatic room recreations and hands-on interactive experiences.
"With more than 22 million visitors to date, we consistently see how Titanic resonates and touches everyone," states Arnie Geller, Chairman and CEO of Premier Exhibitions, Inc. ``Each of us can relate to someone on Titanic and the retelling of her story feeds our curiosity time and again. We are thrilled to be part of the transformation now taking place at Luxor Hotel and Casino and look forward to working with their exceptional staff and management as we present this blockbuster experience.''
Felix Rappaport, president and COO of Luxor, said, "The addition of Titanic: The Artifact Exhibition is another new and exciting reason to come visit Luxor. Titanic's maiden voyage is a moment in time that has captivated us for decades, and Premier Exhibitions has done a tremendous job bringing authentic pieces of the story together to recreate this historic event."
As visitors move through expanded Exhibition galleries, they will experience this important historical event, disaster and passenger stories in chronological order: from the construction yards, to her maiden voyage, the fated sinking, to modern day recovery efforts. Each guest will become a passenger and feel the excitement of that April day as they step into authentically re-created first and third class cabins, stroll through the Promenade Deck and stop for a breathtaking glance at the social hub of Titanic -- the Grand Staircase. They will then feel the temperature drop, learn details of the sinking, touch an iceberg and understand the theories of this tragic tale.
Unique to the Exhibition at Luxor are more than 20 never before seen artifacts including gaming chips, passenger personal papers and decorative sections from Titanic's famed Grand Staircase. In addition, the Exhibition will showcase the largest piece of the Titanic ever recovered -- the 'Big Piece.' This 15-ton piece of the Titanic's starboard hull was raised 12,500 feet from the ocean floor and took more than 80 years, and two attempts, to surface.
Providing a striking visual on the
Las Vegas Strip
, the 30-story Luxor is an architectural wonder boasting one of the world's largest atriums. A multi-phase enhancement plan is revolutionizing the iconic resort and bringing new energy to the south end of the Las Vegas Strip. Luxor is collaborating with industry leaders, like Premier Exhibitions, to bring exciting new entertainment, restaurant and nightclub amenities to the property.
Luxor Las Vegas
3900 Las Vegas Boulevard South
Las Vegas, NV 89119
Phone: 702-262-4444
Toll Free Phone: 888-777-0188
Website: www.luxor.com

Try your luck on one of more than 1700 slot, video poker and multi-game machines with denominations ranging from $0.01 to $100. For Slot players, Luxor has hundreds of options from which to choose. From traditional 'reel' slot machines to the latest video reel machines to hit the market. Players may go after single machine progressives, or try for the big bucks on one of the machines with a multi-million dollar top award.