LINCOLN, California -- As reported by KTXL TV: "Good news for a change on the jobs front.
"Thunder Valley Casino in South Placer County will start up construction again after abruptly shutting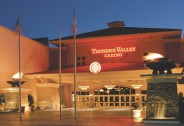 Thunder Valley Casino in Lincoln, CA down work on a one billion dollar expansion project.
"Construction of a 23 story hotel and nine story parking garage abruptly stopped just before Thanksgiving.
"...Thunder Valley is one of the top five casinos in the country, including Las Vegas...earning in an estimated four to five hundred million dollars a year. But it's not recession proof.
"...The hotel will shrink to 15 stories and 400 rooms, and the parking garage will be reduced to seven stories..."
Thunder Valley
1200 Athens Avenue
Lincoln, CA 95648
Phone: (916) 408-7777
Toll Free Phone: (877) 468-8777
Website: www.thundervalleyresort.com

Thunder Valley offers opportunity for fun and relaxation with a spacious gaming floor that includes over 2,700 state of the art slot machines and over 98 gaming tables. While visiting Thunder Valley Casino be sure to feast at their fabulous fine dining and casual restaurants.