Club USA Casino Blackjack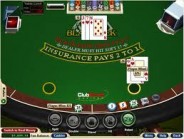 Club USA Casino Blackjack is the best bet for practicing blackjack basic strategy without stress and distractions. The game comes in both free play and real money modes and you can play up to three hands on your own table. The rules are favorable and with a house edge of only 0.71%, better than many casinos. The table minimum is $1 per hand and the maximum is $500.
Free Slot Tournaments Going on Now at Roxy Palace!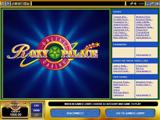 Roxy Palace has slot tournaments 24 hours a day with guaranteed freerolls and free buy-ins. There's a huge variety of types of tourneys to enjoy. Sign up now, join the fun and win some cash!
LAS VEGAS, Nevada - As reported by the Las Vegas Sun: "A bondholder challenging Station Casinos Inc.'s plan for a prepackaged bankruptcy filing and debt exchange has dropped his lawsuit against


the Las Vegas company, its board of directors and its key executives.
Bondholder S. Blake Murchison made headlines Feb. 13 when he sued Station, charging it was not being gentlemanly with a debt exchange offer in which bondholders were asked for steep concessions as part of a proposed prepackaged bankruptcy plan.
The suit included this line of philosophy from Leo Tolstoy: "A gentleman is a man who will pay his gambling debts even when he knows he has been cheated."
After lawyers for Murchison and Station traded legal briefs for months, with Station calling Murchison a gadfly plaintiff since he's also suing Harrah's Entertainment and General Motors Acceptance Corp., the suit was voluntarily dismissed May 5.
Murchison's lawyers dismissed the case without prejudice, meaning that if he desires, he could sue again over the same allegations.
Station Casinos spokeswoman Lori Nelson declined comment on the dismissal of the lawsuit and on the company's continued talks with bondholders.
The talks are aimed at reaching an agreement on a prepackaged bankruptcy in which the note holders would grant concessions while Station's owners, the Fertitta family and Colony Capital, would pump $244 million in capital into the company and remain in control of the gaming, hotel and entertainment operator..."
Station Casinos, Inc.
2411 West Sahara Avenue
Las Vegas, NV 89102
Phone: (702) 367-2411
Toll Free Phone: (800) 6-STATIONS
Fax: (702) 367-2424
Website: www.stationcasinos.com

Station Casinos is a gambling corporation located in Las Vegas. What began as a casino with a locals following has developed into a portfolio of some of the best casinos in the country.