Mystic Dragon Slots Cast a Spell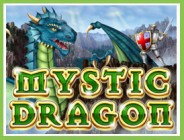 Club USA Casino's Mystic Dragon Slot is a 25 line / 5 reel video slot transporting you to a fantasy land of castles, dragons, knights and beautiful princesses. Ancient scrolls, treasure chests, and fire-belching volcanoes add to the mystery. Get ready to fight the dragon to win more spins and huge jackpots.
LAS VEGAS, NV - The 13th Annual Power of Love Gala to benefit the Cleveland Clinic Lou Ruvo Center for Brain Health was a huge success Saturday night at Bellagio in Las Vegas. It was an emotional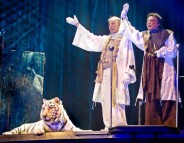 night for Las Vegans and for fans across the world, as master illusionists Siegfried & Roy returned to the stage and took their final bow. The legendary duo gave a farewell performance as part of a charity benefit to raise money for the Cleveland Clinic Lou Ruvo Center for Brain Health. The event raised millions for the fight against neurodegenerative diseases.
A very memorable night in entertainment history, and a moving night for the world, Siegfried & Roy together with their beautiful tiger Montecore gave an audience of 1100 a taste of their magical spectacle. Recognized with never-ending applause, many tears and a standing ovation, Magicians of the Century gave an unforgettable encore performance they very much deserved.
Guests were able to take a magical stroll down memory lane prior to the event enjoying props, costumes and photos from Siegfried & Roy through the years. The night's live auction included dinner in your home for 30 prepared by the legendary Wolfgang Puck, dinner with Phoenix Suns owner Robert Sarver, court-side seats and an autographed Steve Nash jersey, VIP tickets to join Simon, Randy, Paula and Kara at the American Idol finale and so much more.
ABC News will present "Siegfried & Roy: The Magic Returns," a special edition of "20/20? airing March 6 and anchored by Elizabeth Vargas.
Bellagio Resort and Casino
3600 S. Las Vegas Blvd.
Las Vegas, NV 89109