ATLANTIC CITY, New Jersey -- More than a bistro... more than a nightclub... more than a theatrical show... it's nightlife redefined! Resorts Atlantic City, in conjunction with "Showtime Tabou,"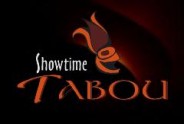 Showtime Tabou
announces the opening of "Showtime Tabou-Atlantic City," a dining, nightclub and entertainment experience like no other in Atlantic City.
Showtime Tabou-Atlantic City will be located on the Dining Level of Resorts, adjacent to the Superstar Theater (former location of Camelot). Showtime Tabou will be open Thursday through Saturday nights from 5 p.m. to 4 a.m. beginning July 28, 2006.
"We have integrated the innovative nightclub and entertainment concept that Showtime Tabou has proven successful in Quebec, and tailored it to meet the needs of casino players in Atlantic City," said Phil Juliano, Senior Vice President of Regional Marketing for Resorts Atlantic City and the Atlantic City Hilton. "Showtime Tabou at Resorts will offer a high quality dining and nightclub experience, with DJs and live entertainment designed to appeal to the demographics of the crowd each particular night."
"Showtime Tabou is true to its name in every essence of the word. It's about ambiance, continuous performances, and variety -- Tabou is 'Showtime,'" said Stephan Genest, founder of Showtime Tabou. "Showtime Tabou is a high quality show with artists who have an opportunity to have lucrative employment and participate in the success of the company. The employee-artist will obtain stage experience, visibility and artistic coaching. For our employee-artists, Showtime Tabou is an educational and training experience. For our guests, it's a chance to interact with artists. It's more than a bistro, more than a nightclub and more than a theater -- it's nightlife redefined."
Currently operating in two locations in Quebec, Canada, Showtime Tabou combines a dynamic dining experience and the high energy of a traditional dance club with live entertainment intermittently performed throughout the evening. Adding to its unique dining/club/entertainment format, the entertainers are Showtime Tabou's bartenders, cocktail servers, and other staff members.
The evening at Resorts' Showtime Tabou begins with a creative French-Canadian Bistro, offered from 5 p.m. to 10 p.m. The chef of Showtime Tabou, Sylvain Deblois, will create a menu that combines American favorites with a French-Canadian flair.
Periodically throughout the dining hours, guests will be treated to live performances designed to complement, not overwhelm, the dining experience. Showtime Tabou at Resorts will offer seating for 150.
As the dining experience begins to close, Showtime Tabou is then transformed into a nightclub, complemented by live entertainment performed by the employee artists. The employee artists and disc jockey performances range from classic Rock N' Roll, alternative rock, and dance favorites to specialty acts such as those performed in a "Cirque-style" Las Vegas show.
Showtime Tabou will be hosting auditions for employee-artists July 11 to 13 at Resorts Atlantic City. For more information on the employee-artist auditions, e-mail info@tabouquebec.ca or visit the Showtime Tabou website at
www.showtimetabou.com
Resorts Atlantic City
Website: www.resortsac.com

Resorts Atlantic City is situated on 11 acres of land with approximately 310 feet of Boardwalk frontage overlooking the Atlantic Ocean. Resorts offers guests 878 hotel rooms and suites in two hotel towers: the beachfront art deco 15-story Ocean Tower, and the magnificent showpiece, the new $125 million, 27-story luxury Rendezvous Tower, in addition to 24-hour casino excitement at more than 70 table games and nearly 3,000 slot machines.