Stretch Your Bankroll Online!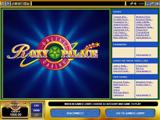 Roxy Palace can really help you stretch your casino bankroll. The casino has games with more favorable odds than you would find at most casinos in the United States. Add to that the generous bonus that you receive just for signing up, and you are getting a lot of extra playing time for your gambling dollar.
SACRAMENTO, California – As reported by the Sacramento Business Journal: "The Shingle Springs Rancheria can begin construction on its casino west of Placerville with the decision of an appeals


The Shingle Springs Rancheria has gotten the go-ahead for their new casino outside Sacramento. court on Friday.
"A motion by a community group in El Dorado County to halt construction of a Foothill Oaks Casino while their appeal is heard was denied by the Court of Appeal, Third Appellate District in Sacramento.
"Voices for Rural living, representing neighbors of the Shingle Springs Rancheria, sought to forbid construction of a roadway project and the casino while their appeal was heard. The court disagreed.
"'With the denial of this motion, we are in a position to begin construction of the interchange and then the casino once we receive the permits from Caltrans (the California Department of Transportation),' said Tim Cope, president of Lakes Entertainment Inc. (Nasdaq: LACO) of Minneapolis.
"Lakes is working with the tribe to develop the casino just north of Highway 50 on the Shingle Springs Rancheria.
Lakes Entertainment, Inc.
130 Cheshire Lane
Minnetonka,, MN 55305
Website: www.lakesentertainment.com

Lakes Entertainment, Inc. currently has development and management agreements with five separate Tribes for new casino operations in Michigan, California, and Oklahoma, a total of eight separate casino sites. In addition, Lakes has announced plans to develop a company owned casino resort project in Vicksburg, Mississippi. The company's website displays all past historical press releases.