LAS VEGAS -- Las Vegas Sands Corp. (NYSE: LVS) announced that the Sands Macao, the first western-operated casino in Asia, has completed the expansion of its casino floor. The total casino area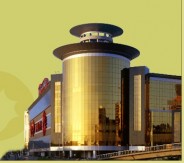 The Sands Macao has over 700 table games on its casino floor.
now measures over 229,000 square feet, and the 740 tables now on the casino floor position the Sands Macao as the largest casino in the world.
"The Sands Macao continues to outpace the competition by offering an entertainment experience not found anywhere else in Asia," stated Bradley H. Stone, executive vice president of Las Vegas Sands Corp. "Reaching this extraordinary milestone clearly establishes us as a leader in the region."
The completion of the gaming floor expansion adds more than 64,000 square feet of gaming space spanning three floors of the casino area. The expansion allows the Sands Macao to accommodate an additional 273 gaming tables -- a 58% increase -- and 365
slot machines
. The total area of casino space now houses an unprecedented 740 table games and 1,254 slot machines -- all designed specifically for the Asian market.
"The Sands Macao has welcomed more than 20 million visitors since it opened in May 2004 as the first Las Vegas style casino in Macao," said Mark Brown, president of the Sands Macao. "The expansion will allow us to provide additional gaming options for our guests, while at the same time enticing new customers to visit our property. We are particularly enthused that the expansion will enable us to serve a larger portion of the highly profitable and rapidly expanding mass table game and slot markets. Our new table game capacity is aimed squarely at that mass market segment, and has allowed us to expand our mass table game capacity by nearly 70 percent."
Mr. Stone added, "Looking ahead, the opening of The Venetian Macao next year will mark the presence of the first true Las Vegas-style Integrated Resort in Macao and will be followed by the opening of the rest of the Cotai Strip(TM) -- which will provide visitors an experience not replicated anywhere else in Asia."
Sands Macao
Largo de Monte Carlo
No. 203
Macau
Phone: +853 883 388
Website: www.sands.com.mo

The Sands Macao is a popular new casino on the island of Macau. It has over 700 table games and 1,200 slot machines.