ATLANTIC CITY – As reported by the Philadelphia Inquirer: "It may once have been among the runts of Atlantic City's casinos, but the fabled Sands Casino Hotel will be going out with a big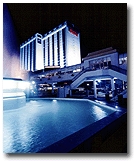 The Sands in Atlantic City is slated for implosion. bang Thursday.
"The 21-story casino - once home to the smallest gaming floor in town and the famed Copa Room, where Frank Sinatra and the rest of the Rat Pack often performed - is to be imploded at 9:30 p.m. in what promises to be a giant party.
"Typical of Atlantic City's ballyhoo style, the 18-second sequence of explosions will climax an evening of fireworks and other festivities that city officials hope will lure tourists.
"Las Vegas-based Pinnacle Entertainment Inc. will redevelop the Sands site at Indiana and Pacific Avenues with a $1.5 billion mega-casino resort scheduled to open by 2012.
"The Sands, which dates to 1980, will be gone in a cloud of dust when demolition crews press the button on 400 pounds of sequenced explosives designed to collapse the floors of the old tower onto itself like a melting ice cream cone, according to Jim Santoro, project manager for Maryland-based Controlled Demolition Inc.
"…Casino hotels up and down the Boardwalk, as well as non-gaming enterprises, have created parties, room promotions, and special cocktails to commemorate the event.
"The Sands, which was called the Brighton for its first year in honor of the historic hotel that was torn down at the site, was the place where Sinatra used to hang his hat when he was in town. The rest of his Rat Pack cronies also routinely hung out and performed there during the casino's heyday in the 1980s and '90s. It closed in November.
"Although the Pinnacle project is still being designed, the developer decided it could make no use of the 27-year-old Sands building. It sold millions of dollars' worth of interior kitsch and exterior facade in a gigantic sale during the spring…."
Pinnacle Entertainment
3800 Howard Hughes Parkway
Las Vegas, NV 89109
Pinnacle Entertainment owns and operates casinos in Nevada, Louisiana, Indiana and Argentina, owns a hotel in Missouri, and receives lease income from two card club casinos in the Los Angeles metropolitan area. Pinnacle also has two casino development projects in the St. Louis, Missouri area, which are dependent upon final approval by the Missouri Gaming Commission.