NEW YORK – As reported by Buffalo Business First: "The opening of a new gaming floor marked the completion of the first phase of a $160 million investment in Salamanca by the Seneca Gaming Corp.
"The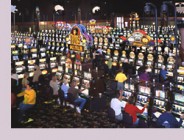 Slots are very popular at Seneca Allegany Casino. 68,300-square-foot gaming floor at the at the Seneca Allegany Casino & Hotel officially welcomed its first guests on Dec. 28. The enlarged casino is 42 percent bigger than the original 48,000-square-foot temporary gaming venue the Seneca Gaming Corp. opened in May 2005.
"Combined the new gaming venue along with a 212-room hotel and spa that's slated to open this March, represent 424,394-square-feet of new construction and will be the largest enclosed tourist destination in Cattaraugus County.
"'This is the first step in the process of opening the premier resort destination in the Southern Tier or northern Pennsylvania,' said Phil Pantano, Seneca Gaming spokesman.
"The intention all along was to build a world-class gaming and hotel operation in Salamanca -- the second of three casinos Seneca Gaming has either built or will be building in the region under the terms of a 2002 compact its governing body, the Seneca Nation of Indians, signed with New York state.
"Seneca Gaming will also be opening a temporary casino in downtown Buffalo in the spring of 2007 with a permanent facility slated to welcome its first patrons by late 2008 or early 2009.
"The new Salamanca gaming floor will have 2,235 slot machines and 40 table games, Pantano said. The temporary Salamanca casino had 1,935 slot machines and 24 table games.
"The 11-story hotel, the largest in Cattaraugus County both in terms of rooms and square footage, includes three new restaurants, an indoor pool, spa and salon.
"'We are not opening the hotel in phases, it will be in one full shot,' Pantano said.
"As for the temporary gaming space, Pantano said tentative plans call for portions of it to be converted into an events and entertainment center and the remaining square footage used for back-of-the-house office and support space.
Seneca Allegany Casino
777 Seneca Allegany Boulevard
Salamanca, NY 14779
Phone: (877) 553-9500
Website: www.senecaalleganycasino.com

Seneca Allegany Casino has 48,000 square feet of gaming, with more than 1,900 reel-spinning and video slot machines and dozens of popular table games including Blackjack, Craps, Roulette, Caribbean Stud Poker, 3 Card Poker and Let It Ride¨∆. The property also features Turtle Island, a non-smoking casino and a Poker Room.