Club USA Casino Blackjack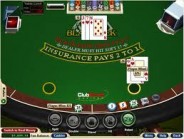 Club USA Casino Blackjack is the best bet for practicing blackjack basic strategy without stress and distractions. The game comes in both free play and real money modes and you can play up to three hands on your own table. The rules are favorable and with a house edge of only 0.71%, better than many casinos. The table minimum is $1 per hand and the maximum is $500.

AusVegas
AusVegas is owned by Lasseters Corporation; a publicly listed company on the Australian Stock Exchange and is licensed and fully regulated by the Northern Territory Government in Australia. The site features casino games such as blackjack, roulette, baccarat and a variety of slot machines.
For players in the know, Perfect Pairs is a great side bet to the most popular of all casino table games, Blackjack. Now AusVegas is bringing all the fun and excitement of Perfect Pairs to its players.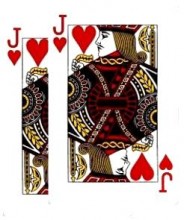 This perfect pair pays 30-1.
Perfect Pairs is an easy game to play and it can earn a player up to 30-1 per hand when a Perfect Pair is dealt to a box containing the Perfect Pairs bet.
Blackjack players at AusVegas are in for a further treat this month as the casino brings online its latest range of multi hand blackjack games. Players can now take control of multiple boxes in a round of play to increase the thrill of taking a win. The option of Perfect Pairs is also available on each box in a multi hand game. With up to five boxes available to wager on, players can strategize how best to draw cards on each box in order to maximize their chances of a win.
Perfect Pairs is a simple add on to the existing blackjack game. When a player places their usual Blackjack bet they also have the option of placing an additional bet up to $25 on the same box as a Perfect Pairs bet. If the initial two cards dealt to a box are a pair and the box contains a Perfect Pairs bet, the player wins. The game then continues as normal with the dealer offering a card to each box.
The odds on perfect Pairs are enticing. For a mixed pair (a pair with each card a different color) the player will receive 5-1, for a colored pair (a pair of the same color but different suit) the odds are 10-1 and ultimately a Perfect Pair (a pair of the same suit) the payout is 30-1. This is a great way to supplement a bankroll while playing Blackjack as well as adding that additional element of excitement.
AusVegas Online Casino places a strong emphasis in providing its players with new and exclusive games. Well known for its exclusive range of slots, AusVegas is now broadening its scope to add more value for their table games players. AusVegas Online Casino is the leader in unique and exciting gaming.