PENNSYLVANIA – As reported by the Courier Post: "For most of the past three decades, tri-county residents had to cross New Jersey to play slot machines. Now, they only have to cross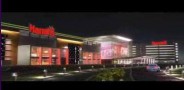 Harrah's Chester Casino is now officially open with over 2,700 slots. the Delaware River.
"Harrah's Chester Casino & Racetrack in Chester, Pa., and PhiladelphiaPark Casino and Racetrack in Bensalem, Pa., have been open just a few months. But already, according to figures released by the New Jersey Casino Control Commission, they've taken a sizable bite out of the revenue stream of Atlantic City's casinos by placing thousands of slot machines within easier reach of those who used to make the seaside gaming capital their gambling destination of choice.
"That convenience is 'absolutely the number one advantage we have over Atlantic City,' said Dave Jonas, the former Atlantic City-based Harrah's Entertainment executive who is president of PhiladelphiaPark.
"To a large degree, both 'racinos' (the industry word used to describe horse-racing facilities with slot machines) are not that different from casinos in Atlantic City and elsewhere. The big difference is table games such as blackjack, craps and poker are prohibited by state law.
"And what neither provides are the kinds of 'comps' (complimentary meals and merchandise) that are a huge part of Atlantic City operations' marketing strategies.
"It's not that they wouldn't like to entice gamblers with such incentives. But the state's gross gaming revenue tax is a whopping 55 percent, with an added 4 percent land lease tariff (New Jersey takes 9.25 percent). As a result, the Pennsylvania properties can't afford to be as generous as their Garden State competition.
"The two casinos also differ from Atlantic City's in location and aesthetics.
"PhiladelphiaPark sits on 64 acres just north of Street Road (Pa. Route 132), a commercial strip that can be described as Bucks County's version of Route 70.
"Harrah's Chester, although situated on the banks of the Delaware River on the site of the old Sun shipbuilding complex, is set in a somewhat foreboding industrial area and has as its closest neighbors a shipping pier and state prison.
Harrah's Chester Casino & Racetrack
35 East 5th Street
Chester, PA 19013
Website: www.harrahs.com

Harrah's Chester features a 5/8-mile harness racetrack with a 1,500-seat outdoor grandstand a state-of-the-art indoor wagering area. A 20,000-square-foot outdoor deck offers patrons a sweeping panoramic view of the Delaware River and a bird's-eye view of the horses as they charge down the homestretch. The casino features over 2,700 slot machines.
Philadelphia Park Casino and Racetrack
3001 Street Road
Bensalem, PA 19020
Phone: (215) 639-9000
Website: www.philadelphiapark.com

Pennsylvania's newest racino, Philadelphia Park Casino and Racetrack offers horse racing and over 2,400 slot machines.