$250 Weekly Cash Sweepstakes at Luckity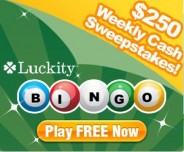 Luckity is a new website operated by the Churchill Downs Corporation and offers US players a safe and legal way to bet online. Luckity has a large variety of fun games and accounts are easy to set up. The games are unique as they are based on the results of horse races around the world. After you fund your account, pick your lucky numbers and see your results. This could be your Luckity day!
PBL Shows Interest in Horse Racing Channel
Tuesday, March 28, 2006
AUSTRALIA – As reported by the Age.com News: "James Packer's Publishing and Broadcasting Ltd is going head to head with the country's other gaming giant, Tabcorp, for the first time, offering more than $25 million for a quarter stake in rebel horseracing broadcaster ThoroughVisioN.

"It is believed that TVN chairman Harold Mitchell, a close associate of the Packers, decided at a board meeting yesterday afternoon to put the proposal before shareholders — the racing clubs in Sydney and Victoria — later this week.

"Mr Packer's bid for a piece of TVN, which values the company at more than $100 million, signals his intent to take on Tabcorp.

"It would give PBL part ownership of the broadcast rights to Australia's most lucrative thoroughbred races, including the Melbourne Cup.

"It could also provide the group with the foundation for a bid for the Victorian wagering licence when Tabcorp's licence expires in 2012…"