Mystic Dragon Slots Cast a Spell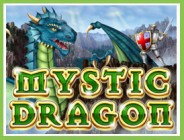 Club USA Casino's Mystic Dragon Slot is a 25 line / 5 reel video slot transporting you to a fantasy land of castles, dragons, knights and beautiful princesses. Ancient scrolls, treasure chests, and fire-belching volcanoes add to the mystery. Get ready to fight the dragon to win more spins and huge jackpots.
PAUMA VALLEY, Calif. – As reported by 10News.com: "The Pauma Indian band and the operator of the world's largest casino announced Wednesday a partnership to build a $300 million casino-hotel


Pauma Band of Luiseno Indians in the North County.
"Planning meetings will begin immediately with county staffers to address the off-site impacts of the project, including traffic, said Gary Armentrout, chief development officer of the Connecticut-based Foxwoods Development Co.
"Foxwoods is owned by the Mashantucket Pequot tribe, which operates a casino-hotel with 7,100 slot machines and 1,400 rooms.
"The local project would be about a third of that size, with 2,000 slots, 50 gaming tables and 500 hotel rooms, Armentrout said
"Still, it would be one of the largest in California and help inland North County supplant East County as the region's gaming hub, with more than 7,400 slots along a 15-mile corridor of state Route 76, according to the San Diego Union-Tribune.
"The project, which the tribe hopes to open in 2009, will replace Pauma's current facility, which will remain open during construction..."
Casino Pauma
777 Pauma Reservation Road
PO Box 1067
Pauma Valley, CA 92061
Phone: (760) 742-2177
Toll Free Phone: (877) 687-2862
Fax: (760) 742-2438
Website: www.casinopauma.com

Nestled in a citrus grove, in the heart of Pauma Valley, Casino Pauma features 24 hours dining, live entertainment and 24 hour gaming. Casino Pauma's 65,000 square foot tropically-themed gaming complex offers over 35,000 square feet of casino gaming including 1,050 slots and twenty table games.