AccessVegas.com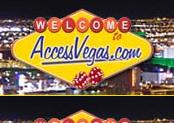 AccessVegas has all the best deals for your next visit to Las Vegas. Whether its booking a room, getting tickets for a show, or even getting a limo from the airport, AccessVegas has what you're looking for at a great price. Their website also has streaming videos of Las Vegas attractions and events, a complete list of upcoming concerts and a free Las Vegas Newsletter. If it's Las Vegas you are interested in, check out Ted Newkirk's AccessVegas.com!

What's On, The Las Vegas Guide
For more than 50 years, What's On has been the authority on Las Vegas. With unequalled editorial coverage of entertainment, gaming, dining, shopping, recreation and attractions, it captures the pulse of this vibrant city. What's On has insightful features, intriguing profiles and comprehensive listings. There are fun columns, valuable coupons and easy-to-read, handy locator maps (that you can pull out!)—as well as toll-free numbers for making reservations. A high-quality publication with 200+ packed pages, What's On has all the information you need to have a memorable and hassle-free stay in Las Vegas.

ONE SIX Sky Lounge
Check out onesixlv.com for the latest information on events, promotions and entertainment at the ONE SIX Sky Lounge inside the Eastside Cannery Casino & Hotel in Las Vegas.
LAS VEGAS, NV - Cannery Casino Resorts announced the public opening of ONE SIX Sky Lounge, a sleek contemporary nightspot set atop the 16th floor of Eastside Cannery Casino & Hotel.
Offering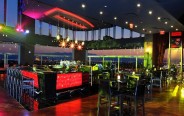 Inside look at the ONE SIX Sky Lounge panoramic views of the famed Las Vegas Strip and downtown, ONE SIX Sky Lounge features floor-to-ceiling glass windows throughout the venue and a 1,700 square foot three-sided balcony. While taking in the vibrant mix of music, guests can experience affordable elegance with the small bites menu, unique martini and cocktail menu and a fine selection of wines all set at approachable price points.
ONE SIX Sky Lounge is open Fridays and Saturdays at 5 p.m. with happy hour from 5 p.m. to 8 p.m. The happy hour features half-priced martinis and a free sampling from the menu.
Design & Décor
Eastside Cannery guests will be transported from the property's industrial era theme to a sleek 11,000 square foot hotspot. Upon entering ONE SIX, revelers will immediately gravitate toward the expansive 1,700 square foot three-sided balcony, offering unique and breathtaking views of the famous Las Vegas skyline. The carefully crafted floor design will allow guests to take in the legendary panorama from any location within the venue, including the restrooms. Designed by the firm Yates-Silverman, ONE SIX is appointed with an eclectic blend of classic motifs and modern furnishings to create an intimate and upscale setting. The sky lounge features a romantic pairing of warm red hues offset by three large blue, cast glass columns lit from within. The chairs and chaises in the lounge area create an inviting atmosphere for relaxation and enjoyment of the cozy setting.
Food
ONE SIX provides a retro revival of familiar favorites made from the best American ingredients served tapas style. The menu is divided into cold bites, hot bites and sweet treats. Featured items include the Ahi Tartar Trio, Beef Carpaccio, Coconut Shrimp Skewers and Mac and Cheese Fondue.
Drinks
ONE SIX offers an extensive menu of delicious and affordable specialty cocktails, including the Pinups, Sweet Lucy, The Carve and the 16 Sunset, most of which pay tribute to the other dining establishments at Eastside Cannery Casino & Hotel. The refreshing Dazzle Cocktail will entice taste buds as it contains Skyy Passion Fruit, Pama Pomegranate, orange juice, champagne and berries. ONE SIX also offers a stylish feature bar with an impressive array of more than 100 premium wine selections.
Nightlife
The scene at ONE SIX Sky Lounge is driven by Las Vegas nightlife industry veteran Frankie Anobile, noted for opening and operating some of the most successful clubs on and off the world-famous Strip. While guests take in the incredible sights of Las Vegas, a rotating list of DJs will spin a diverse variety of tunes ranging from Rat Pack remixes to today's dance favorites. Guests can kick back in the lounge to enjoy the sounds of the DJ or live it up on the dance floor with the Las Vegas skyline as the backdrop.
For more information, please visit www.onesixlv.com or call (702) 856-5457

Cannery Casino Hotel
2121 East Craig Road
North Las Vegas, NV 89030
The Cannery features 50,000 square feet of casinos space with over 1,275 slot/video poker machines, 21 table games, a 100-seat sports book, and live poker.