LAS VEGAS - (PRESS RELEASE) -- La Femme (pronounced "La Fahm") at MGM Grand and its parent show Crazy Horse in Paris are under new ownership. Founded by French entrepreneur Alain Bernardin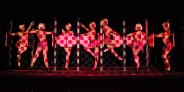 La Femme at the MGM in Las Vegas in 1951, Crazy Horse had been owned and operated by Bernardin's three children Didier, Pascal and Sophie since his death in 1994. The Bernardin siblings recently sold their rights to a group of shareholders led by Belgian businessmen Philippe Lhomme and Yannick Kalantarian.
Lhomme and Kalantarian plan to expand the Crazy Horse brand and have begun with the launch of a new production in Singapore, which includes an integrated 450-seat theatre, restaurant, cocktail lounge and café. An international Crazy Horse touring troupe also is currently being developed and will begin engagements in Lisbon, Spain and Beirut, Lebanon later this year, with additional cities to be announced in the near future.
Lhomme is an international businessman with more than 15 years of experience in establishing and developing communications, media and events companies as well as cable television networks in several European countries. Lhomme's background includes the founding of "Canal Plus Polska," one of the first private television channels in Poland. Lhomme also is a major shareholder in Altice, a cable television company with 2.3 million subscribers in French-speaking countries throughout Europe, and serves as the organization's Chairman for the Belgian subsidiary. In addition Lhomme is the founder and owner of Fisa, an events management company that organizes consumer and trade shows throughout Europe. Kalantarian, Lhomme's partner, is the founder and president of Puzzle Advertising, a European advertising, entertainment and events production firm.
While remaining true to the creative and ethic principles Crazy Horse has upheld for nearly 55 years, Lhomme and Kalantarian plan to explore all options in expanding the show's brand name. "The Crazy Horse is an extraordinary internationally recognized brand that has the potential to be developed worldwide," said Lhomme. "It has a power synonymous with its rich French history which also has international appeal."
Changes set for La Femme include the revival of an audience favorite and the unveiling of a revamped routine. The previously performed group cabaret number "Chair Me Up" has returned to the show as well as the solo performance "Teasing."
La Femme is an exact replica of the acclaimed show Crazy Horse in Paris, famous for its productions celebrating beautiful women and the art of the nude since 1951. La Femme elegantly balances sensuous choreography with a combination of light effects and projections to create a moving canvas of skin with dramatic effects: some subtle, some humorous and all sensual. For generations, the world-famous Crazy Horse has been unsurpassed as a radical innovation that exalts the female form as both artistic expression and entertainment, drawing more than five million guests including international celebrities from film, music, television, theater, sports and politics.
La Femme performs nightly at 8 p.m. and 10:30 p.m. and is dark Tuesdays. Guests must be at least 18 years of age to attend the show. Tickets are priced at $59 inclusive and include a show program. Tickets can be purchased at MGM Grand ticketing outlets, by phone at (702) 891-7777 or (800) 929-1111, or online at www.mgmgrand.com.