PASADENA, California - (PRESS RELEASE) -- GSN has partnered with gaming company Shuffle Master Inc. to air the finals of the first ever Three Card Poker National Championship Tournament. The special,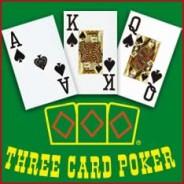 hosted by Mark L. Walberg ("Temptation Island," and "Russian Roulette") and Danielle Demski (Miss Arizona 2004 and Miss USA Finalist), is slated to air Monday, April 17 and Monday, April 24 from 9:00 to 10:00 PM ET/PT, and is being produced by LMNO Productions and Shuffle Master subsidiary Shuffle Up Productions. The announcement was made at the Television Critics Association Winter Press Tour by GSN Senior Vice President of Programming, Ian Valentine.
"As the network for games, we know how much fun and popular Three Card Poker has become in the last few years," said Valentine. "We are excited to be the first network to bring this game to television. I promise a lot of thrills and chills in the show."
The popularity of Three Card Poker has risen quickly over the past nine years, making it one of the most played casino table games in North America, with international expansion close behind.
"We are excited about giving away a $1 million to the winner of our first event. Next year we anticipate bigger crowds and more players competing for the finals at Caesars Palace in Las Vegas. We expect to conduct 30 to 35 Regional events in 2006 throughout North America," said Brooke Dunn, Senior Vice President of Shuffle Master, Inc.
In Three Card Poker, players compete against the dealer. Each is dealt three cards face-down and must make the best poker hand with them. Hand rankings are slightly different from five-card poker: straights beat flushes, and the highest ranking hand is a straight flush. There are three wagers, pair plus, which pays based on the rank of the hand and the ante and play wagers that pay off if the players hand is higher than the dealers hand. The dealer must have a queen high or better to qualify.
Shuffle Master held 20 regional Three Card Poker tournaments throughout North America, and over 250 people qualified to play in the finals at The Rio Hotel and Casino in Las Vegas, Nevada. The special will focus on the nine finalists as they battle for the $1 million dollar grand prize and a diamond and ruby-encrusted bracelet worth over $30,000.
"GSN is on the forefront of bringing casino games to television in a compelling and entertaining manner," stated the show's executive producer, Eric Schotz. "Three Card Poker is a perfect fit for viewers. It is a game based on skill and luck that anyone can play."
GSN, the Network for Games, is the only U.S. television network dedicated to game-related programming. The network features game shows, reality series, documentaries and casino games. As the industry leader in interactivity, GSN has allowed viewers to play-along with on-air programming via their computers and GSN.com since 2002. Reaching more than 57 million Nielsen homes, GSN is distributed in the U.S. through all major cable systems and satellite providers. The network is jointly owned by Sony Pictures Entertainment and Liberty Media Corporation. For further media information, visit GSN's press website at www.corp.gsn.com.
About Shuffle Master
Shuffle Master, Inc. specializes in providing its casino customers with Utility Products, including automatic card shufflers, intelligent table systems, and roulette chip sorters, to improve their profitability, productivity and security, and Entertainment Products, including proprietary table games and Table Master(TM) games to expand their gaming entertainment content. The company is included in the S & P Smallcap 600 Index. Information about the Company and its products can be found on the Internet at www.shufflemaster.com
About LMNO Productions
Established in 1989, LMNO Productions has produced over 600 programs and 50 series for network, cable and syndicated television. A provider of reality, documentary, informational and entertainment programming worldwide, LMNO's credits include, "Kids Say the Darndest Things" hosted by Bill Cosby and "Wickedly Perfect" for CBS, "Guinness World Records: Primetime" for FOX, "Behind Closed Doors with Joan Lunden" for A & E and the award-winning "Silent Stalker: Heart Disease" for Discovery Health Channel. Information about the company and its shows can be found on the Internet at www.lmnotv.com