CARSON CITY, Nevada – as reported by Reuters: "Casino gambling revenue in Nevada rose 16.01 percent to $999.62 million in November from a year earlier on a surge in gaming in Las Vegas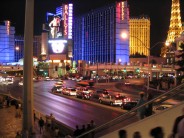 associated with popular music acts, the state said on Wednesday.
"Gambling revenues posted in November by casinos along the Las Vegas Strip, the heart of the state's gambling industry, increased 23.78 percent to $524.68 million from a year earlier, boosted by visitors in town for concerts, said Frank Streshley, an analyst with the state's Gaming Control Board.
"'We had a strong special events calendar in November. In that month we had U2, the Rolling Stones and Paul McCartney play,' Streshley said.
"...Casinos in Reno reported a 7.11 percent increase in their so-called gaming win to $61.66 million in November from a year earlier, marking an acceleration of gambling activity there as neighboring California's economy strengthened, Streshley said.
"He said high gasoline prices failed to deter visitors from California late last year from driving into Nevada, adding that casino gambling revenues for the state's fiscal year starting in July through November increased 13.28 percent from the year-earlier period…"