Mystic Dragon Slots Cast a Spell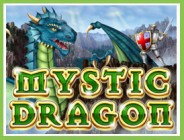 Club USA Casino's Mystic Dragon Slot is a 25 line / 5 reel video slot transporting you to a fantasy land of castles, dragons, knights and beautiful princesses. Ancient scrolls, treasure chests, and fire-belching volcanoes add to the mystery. Get ready to fight the dragon to win more spins and huge jackpots.
PHOENIX, Arizona – as are reported by the Arizona Republic: It's big and expensive and it's coming to Gila River's Vee Quiva (KEE'-vah) Casino.
"The tribe broke ground yesterday on an eight million dollar expansion of the casino at 51st Avenue south of I-Ten.
"The expansion is expected to add up to eleven-thousand square feet and 300 new parking spaces.
"Part of the expansion includes a new bingo hall, a full service bar and a renovated restaurant.
"The tribe hopes the project is wrapped up by September.
"Gila River says the expansion is designed to keep pace with dramatic growth in the Southwest Valley.