Mystic Dragon Slots Cast a Spell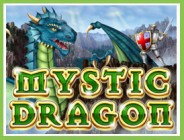 Club USA Casino's Mystic Dragon Slot is a 25 line / 5 reel video slot transporting you to a fantasy land of castles, dragons, knights and beautiful princesses. Ancient scrolls, treasure chests, and fire-belching volcanoes add to the mystery. Get ready to fight the dragon to win more spins and huge jackpots.
RENO, Nevada - (PRESS RELEASE) -- Boomtown Casino and Hotel Reno's Web site (www.BoomtownReno.com) continues to log guests onto Boomtown's lowest Internet room specials.
The site offers the lowest Boomtown room rate specials on the Internet. On-line hotel reservations can be made months in advance with the easy calendar selection format, with pictures, details and exclusive pricing for all Boomtown room types. Information on military appreciation and AAA hotel specials is also available. Web visitors can also sign up for the Player's ClubSM, view Boomtown restaurant menus, place an on-line Fun Center Party Room party request- even plan a luxurious Boomtown wedding or view live Keno results, all amid the site's vibrant purple colors and animated icons.
"We're pleased we can offer these lowest Internet rates, along with other great Boomtown information and discounts, all at the touch of a button on www.boomtownreno.com. Plus you can sign up to receive our e-mail newsletters!" Boomtown Director of Hotel and RV Park Michael Patterson explains.
The easy on-line reservations add another touch of comfort to the Boomtown hotel experience. A warm combination of beige, ivory, blue and red highlight plush NEW room amenities, from FREE in-room Internet, swivel make-up mirror and curved shower curtain for more room to easy-heat iron and ironing board. Suites are home to luxurious jetted tubs, expansive wet bars, balconies and separate living area. Gourmet room service treats like one-pound t-bone steak, shrimp lo mein and hospitality baskets are delivered with one easy call. Complimentary room and bell service make the stay even easier, and a heated indoor pool adds another splash of fun to the experience.
Boomtown Casino and Hotel is located just seven miles west of Reno on Interstate 80 at Boomtown exit #4. Boomtown offers nearly 42,000 square feet of gaming excitement.
Boomtown Reno
Reno, NV
Phone: 1-775-345-6000
Toll Free Phone: 1-800-648-3790
Website: www.boomtownreno.com

This Reno casino/hotel combines a dynamic casino, luxurious hotel and delectable cuisine.