32 Vegas Top Spot for Gamblers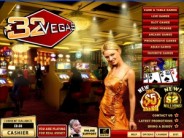 32 Vegas has a huge variety of slot machines, enough to satisfy any slot fanatic. The casino has over 30 video and classic slots to choose from including 7 progressives. You can play as little as a penny per spin all the way up to $5 per line. There are 2,3,5,8, and 9 line slots. Some of the outstanding video slot titles are Gold Rally, Vacation Station and Desert Treasure. Popular classic slots include Fountain of Youth, Bermuda Triangle, and Haunted House. With great variety, fantastic graphics, and innovative themes, 32 Vegas slots are a good thing.
COLUMBIA, South Carolina - as reported by the Rock Hill Herald -- "A judge will rule within two weeks whether the Catawba Indian Nation can operate video poker on its reservation, he said Friday.
"Master-in-equity Judge Joseph Strickland, specially assigned to the case, said he will render his decision by Dec. 16. Strickland has been asked to interpret the language of a statute that tribal officials claim permits them to have a video poker operation on their tribal property.
"Attorneys for the York County-based tribe argued with defense attorneys representing the state Attorney General's Office Friday over the meaning of the language in a land claim agreement with the state. The case was heard in the Richland County Judicial Center.
"...In 1993, the Catawbas were recognized as a limited-sovereign Indian nation and settled a land claim suit over 144,000 acres seized in 1840 by agreeing to a York County reservation and two bingo sites. The Cherry Road Catawba bingo hall opened in 1997. That agreement also granted the tribe the right to video poker on the reservation, tribal officials say.
"The tribe's attorneys, Jay Bender and Dwight Drake, thought the wording of the agreement is somewhat confusing, it still gives the tribe the exclusive right to operate video poker regardless of state law...."