by Howard Stutz
Las Vegas Gaming Wire
LAS VEGAS, Nevada -- No one was surprised that MGM Mirage reported a decline in net earnings during the first quarter.
That was old news.
Wall Street wanted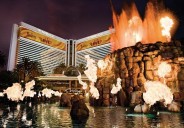 MGM Mirage in Las Vegas to know Monday if business at MGM Mirage's nine Strip resorts was picking up.
Less than a week after a deal to save the $8.5 billion CityCenter was reached and the company was given an extra 61/2 weeks by its lenders to resolve its leverage issues, MGM Mirage Chairman and Chief Executive Officer Jim Murren told investors that convention cancellations the company witnessed in January and February had dropped off. Business levels, he said, were stabilizing.
In April, room occupancy was on par with April 2008. However, room rates were down as much as 30 percent from a year ago.
MGM Mirage Chief Financial Officer Dan D'Arrigo said in an interview the company is seeing more advance room bookings, a marked change from previous months.
"Even though it's a tough time, consumers are resilient and they want their escape," D'Arrigo said. "There are some great rates. Our stabilization efforts have taken traction."
MGM Mirage reported first-quarter net income of $105.2 million, which translated into earnings of 38 cents a share. The results included a 44-cents per share one-time gain from the $775 million sale of Treasure Island in March. The results also included a small one-time gain related to the January 2008 fire at the Monte Carlo.
In the same quarter a year ago, MGM Mirage had a net income of $118.3 million and earned 40 cents a share. Analysts polled by Thomson Reuters, who generally exclude one-time items, expected MGM Mirage to report net loss of 7 cents a share.
MGM Mirage's overall revenues were $1.5 billion, a decline of 20.2 percent from $1.88 billion a year ago.
The company announced earnings after the New York Stock Exchange closed. Shares of MGM Mirage gained $1.58, or 20.1 percent, to close at $9.44.
Most of the focus by Wall Street is on the company's corporate restructuring plans. MGM Mirage has $13.5 billion in long-term debt and has until June 30 to reorganize its finances or risk defaults that could trigger a corporate-wide bankruptcy.
How the company will go about the process has sparked debate on Wall Street.
"There is really no one-size fits all," D'Arrigo said. "We're looking at different options."
Several analysts said they wanted to see asset sales take place, such a deals for MGM Grand Detroit and the Beau Rivage in Biloxi, Miss.
In securing the $1.2 billion needed to complete CityCenter last week, the company used some of its Strip casinos to secure financial backing.
"Now that MGM Mirage has used some of its more attractive regional assets as security interests, we see a sale of these casinos as muddled," Macquarie Securities gaming analyst Joel Simkins told investors.
MGM Mirage filed a shelf registration Friday to issue stock, which enables the company to sell an undetermined number of shares.
Deutsche Bank gaming analyst Andrew Zarnett said that money from a stock sale would allow MGM Mirage to pay down its debt coming due in July and October, but might also keep the company from having to sell hotel-casinos.
"An immediate asset sale at fire-sale prices may not occur," Zarnett said. "MGM Mirage can now look to sell assets at market valuations, which are hard to determine at this time given falling (cash flow)."
Oppenheimer gaming analyst David Katz said selling casinos would raise cash in the short term, but impact how Wall Street values MGM Mirage in the long-run.
"An equity raise is a likely initiative," Katz told investors, saying a stock sale could raise between $500,000 and $3 billion

MGM MIRAGE
3600 Las Vegas Boulevard South
Las Vegas, NV 89109
Phone: (702) 693-7120
Fax: (702) 693-8626
Website: www.mgm-mirage.com

MGM MIRAGE is one of the world's leading gaming companies. It owns and operates 24 properties located in Nevada, Mississippi and Michigan, and has investments in four other properties in Nevada, New Jersey, Illinois and the United Kingdom. MGM MIRAGE has also announced plans to develop Project CityCenter, a multi-billion dollar mixed-use urban development project in the heart of Las Vegas, and has a 50 percent interest in MGM Grand Macau.