MACAU -- As reported by the Agence France Presse: "MGM MIRAGE becomes the latest gaming giant to try and lure the Chinese gambler on Tuesday, when the company opens its first casino resort outside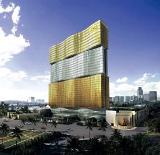 MGM Grand Macau is the latest major casino to open in Macau. the United States in the tiny enclave of Macau.
"MGM Grand Macau is a $US1.25 billion ($1.45 billion) casino resort half-owned by MGM Mirage and half by Pansy Ho, daughter of the original Macau casino mogul Stanley Ho.
"...Built on prime waterfront, MGM Grand Macau features 600 rooms and a casino with around 385 table games, 890 slot machines and 16 private gaming salons.
"...The centrepiece of the new building is the huge Grand Praca atrium, which has a glass ceiling 25 metres above the ground. Its design was inspired by the Central train station in Lisbon, a nod to the city's Portuguese heritage..."
MGM MIRAGE
3600 Las Vegas Boulevard South
Las Vegas, NV 89109
Phone: (702) 693-7120
Fax: (702) 693-8626
Website: www.mgm-mirage.com

MGM MIRAGE is one of the world's leading gaming companies. It owns and operates 24 properties located in Nevada, Mississippi and Michigan, and has investments in four other properties in Nevada, New Jersey, Illinois and the United Kingdom. MGM MIRAGE has also announced plans to develop Project CityCenter, a multi-billion dollar mixed-use urban development project in the heart of Las Vegas, and has a 50 percent interest in MGM Grand Macau.