32 Vegas Top Spot for Gamblers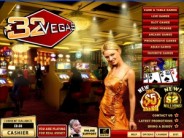 32 Vegas has a huge variety of slot machines, enough to satisfy any slot fanatic. The casino has over 30 video and classic slots to choose from including 7 progressives. You can play as little as a penny per spin all the way up to $5 per line. There are 2,3,5,8, and 9 line slots. Some of the outstanding video slot titles are Gold Rally, Vacation Station and Desert Treasure. Popular classic slots include Fountain of Youth, Bermuda Triangle, and Haunted House. With great variety, fantastic graphics, and innovative themes, 32 Vegas slots are a good thing.
MASSACHUSETTS -- As reported by the Worcester Telegram: "Casino gambling is back in the news again, but we are no closer to knowing for sure what the introduction of casinos would do for the commonwealth's


fiscal health. It would be foolish to dismiss the idea out-of-hand, but recent trends and reports suggest that casinos are no panacea for strained budgets, and may fall short of Gov. Deval L. Patrick's fondest hopes.
"Last week came the news that Connecticut's vaunted casinos saw a decrease in income in the past year. And, after taking on too much debt to upgrade to a 'first-class gaming and entertainment facility,' Rhode Island's Twin River racino may be facing bankruptcy.
"Now, a report by Spectrum Gaming Group conducted for the administration cautions the governor's projections for a three-casino scenario were too rosy. The study says the state could recapture up to $700 million of the $1.1 billion Bay Staters gamble in nearby states. Overall, casinos would create about 9,000 construction jobs, rather than the 30,000 Patrick envisioned, and generate somewhat less than the $2 billion he suggested.
"A recent report by the Nelson A. Rockefeller Institute of Government in New York compares the current casino situation to blue chip stocks: a reliable but not a stellar source of revenue..."