HALLANDALE BEACH, Florida – As reported by the Brandenton Herald: "Grand openings are usually celebrated by rolling out the red carpet, but since this is a casino with a New Orleans Mardi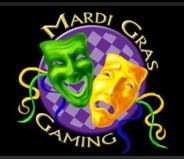 Mardi Gras Gaming Center is now open and features over 1,000 slot machines. Gras theme, the choice was a bright purple.
"''The doors are open!'' shouted Dan Adkins, president of Mardi Gras Racetrack and Gaming Center in Hallandale Beach -- formerly known as the Hollywood Greyhound Track.
"At 10:30 a.m. today, just under 500 people, mostly senior citizens, poured in.
"''I got here at 7 a.m. because I thought it was going to open earlier,'' said Hevis Williams, 56, who drove from his home in Hialeah. ``When I got here, no one else was here except construction workers. So I guess I was the first one here.''
"…Overall, Mardi Gras slot machines return $90.60 for every $100 wagered. That's an average figure, of course. There are no guarantees for individual bettors.
"Geller says that's higher than the payout rate at Broward's three Seminole casinos, but since the tribe is not required to report or submit to testing, there is no way to know.
"According to statistics from Steve Bourie, author of the American Casino Guide, Broward payout rates are low compared with other parts of the nation, such as the 93.3 percent rate offered on the Las Vegas strip and up to 92.6 percent at an Atlantic City casino.
"…Mardi Gras is providing free shuttles from hotels, condominiums and apartment complexes to bring in its core patronage -- senior citizens -- but Adkins anticipates the casino will draw a younger and more diverse crowd later in the day.
"Adkins also hopes that slot players arriving after 5 p.m. might be drawn to bet on greyhound racing, which is adjacent to the slot room. Toward the back of the casino floor, starting at 5 p.m., slot players can see greyhounds being weighed for that day's race.
"Racing starts at 7:45 p.m. and can be watched live or on monitors….
Mardi Gras Racetrack and Gaming Center
831 North Federal Highway
Hallandale Beach, FL 33009-2410
Website: www.playmardigras.com