A Huge Collection of Loose Slots!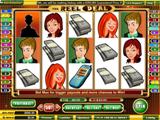 Online casino slots are loose. Why? Because with the lower overhead, no slot employees to pay, and lower taxes, they can afford to pay more back to their customers. Roxy Palace offers a huge range of casino slots for you to play for fun or for real money prizes. From easy to play 3-reel games and fruit slot machines, all the way through to popular video slots, progressives slots and brand new releases from Microgaming, every game provides a high level of quality.
Sportsbook.com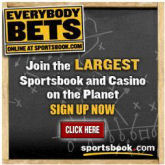 Owned by publicly-traded Sportingbet PLC, Sportsbook.com is an online sports betting, online casino gambling and multi-player online poker room provider with live betting lines, 24/7 customer service and fast payouts. In 2005, it was voted the 'Best US Sportsbook' by eGaming. The site is licensed in Alderney.
LAS VEGAS, Nevada -- Over 12 BILLION dollars is expected to be wagered on the 2009 NCAA Basketball Tournament by over 40 million Americans. RJ Bell of Pregame.com tells us what we need to know about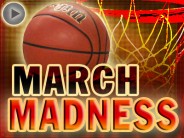 the Sweet 16 from a Las Vegas perspective.
Most amazingly, if you had picked teams to advance based upon who Las Vegas favored in the games, you would have correctly predicted 15 of the 16 third round teams! Purdue, the only exception, was the smallest of underdogs (1-point) vs. Washington.
#16 seeds are now 0-100 in round 1. #15 seeds are now 4-96 in round 1. No seed lower than #12 advanced to the 3rd round this year; of the last 400 Sweet 16 teams, only 6 have been lower than a #12 seed.
After only two rounds, the odds against still having a perfect bracket are 8.7 quadrillion to 1 (that's 8,700 trillion). None of the over five million participants in the ESPN Tournament Challenge have a perfect bracket after two rounds.
Here are the true Las Vegas odds (followed by percent chance) to win the NCAA championship:
North Carolina: 5.5 to 1 (18%)
Louisville: 8.5 to 1 (12%)
Pitt: 9 to 1 (11%)
UConn: 10 to 1 (10%)
Memphis: 11 to 1 (9%)
Duke: 14 to 1 (7%)
Michigan St: 22 to 1 (4.5%)
Syracuse: 22 to 1 (4.5%)
Oklahoma: 22 to 1 (4.5%)
Gonzaga: 22 to 1 (4.5%)
Kansas: 30 to 1 (3.5%)
Villanova: 36 to 1 (3%)
Purdue: 36 to 1 (2.5%)
Arizona: 36 to 1 (2.5%)
Missouri: 50 to 1 (2%)
Xavier: 71 to 1 (1.5%)
The odds stated above have been adjusted through a proprietary Pregame.com formula to remove the commission charged by sportsbooks. Without this adjustment, the odds against a result are understated substantially (often upwards of 50%). For example, an event whose true odds are 10-1 against will be incorrectly stated as 7-1 against (the difference is the commission charged by the sportsbook). As a result, there is an overstatement of the chances of the event happening. The failure of nearly all widely circulated odds to account for this adjustment makes the numbers unreliable and misleading.