Stretch Your Bankroll Online!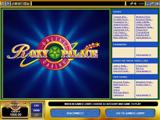 Roxy Palace can really help you stretch your casino bankroll. The casino has games with more favorable odds than you would find at most casinos in the United States. Add to that the generous bonus that you receive just for signing up, and you are getting a lot of extra playing time for your gambling dollar.
MACAU -- As reported by the Hong Kong Standard: "Macau is planning to raise from 18 to 21 the minimum age at which a person can legally gamble, chief executive Edmund Ho Hau-wah told lawmakers yesterday.
"In a question-and-answer session, Ho said the proposal was not mentioned in his policy address on Tuesday as he did not want to cause any panic before he had a concrete plan of action.
"The decision surprised many legislators with Leong On-kei, wife of casino tycoon Stanley Ho Hung-sun, asking Ho to further clarify his gaming policy.
"...She expected admission numbers to casinos to drop slightly when the policy goes into effect, but said that - in the long term - it was good to improve Macau's image in the international arena..."