Mystic Dragon Slots Cast a Spell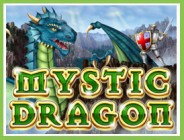 Club USA Casino's Mystic Dragon Slot is a 25 line / 5 reel video slot transporting you to a fantasy land of castles, dragons, knights and beautiful princesses. Ancient scrolls, treasure chests, and fire-belching volcanoes add to the mystery. Get ready to fight the dragon to win more spins and huge jackpots.
MACAU -- As reported by the Hong Kong Standard: "Macau is planning to raise from 18 to 21 the minimum age at which a person can legally gamble, chief executive Edmund Ho Hau-wah told lawmakers yesterday.
"In a question-and-answer session, Ho said the proposal was not mentioned in his policy address on Tuesday as he did not want to cause any panic before he had a concrete plan of action.
"The decision surprised many legislators with Leong On-kei, wife of casino tycoon Stanley Ho Hung-sun, asking Ho to further clarify his gaming policy.
"...She expected admission numbers to casinos to drop slightly when the policy goes into effect, but said that - in the long term - it was good to improve Macau's image in the international arena..."