Roxy Palace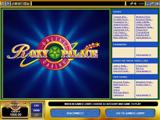 Roxy Palace is the most popular Microgaming software casino in the world today. With excellent customer support, a wide variety of slots and games, and generous bonus rules, Roxy Palace has earned its recommendation as one of ReadyBetGo's favorite casinos. The site is constantly adding new slots and games and now features Single Deck Blackjack. For a rewarding online experience, try Roxy Palace. Currently, Roxy Palace Does Not Accept US Players.
BOSTON, Massachusetts -- As reported by the Boston Herald: "Casino supporters felt like they hit the jackpot yesterday after a staunch foe, state Rep. Daniel E. Bosley (D-North Adams), was ousted


as chairman of the House committee that oversees gambling.
"New House Speaker Robert DeLeo (D-Winthrop), who supports putting slot machines at the racetracks, tapped state Rep. Brian Dempsey (D-Haverhill) to replace Bosley.
"'Now we're in the ball game,' said state Rep. Brian Wallace (D-Boston), who has filed a bill signed by more than 40 other pols to legalize casinos.
"Dempsey has voted against gaming twice, and specifically against legalizing slots at the racetracks during one of those votes. But Wallace brushed off those votes as support for then-Speaker Salvatore F. DiMasi, who staunchly opposed casinos.
"...A bill filed by Gov. Deval Patrick legalizing three casinos was defeated before it even reached the House floor for a vote last year. Under Bosley's stewardship, members of the Economic Development committee sent the bill for additional study, effectively killing it..."