LAS VEGAS, Nevada -- As Reported by the Las Vegas Sun: "Longtime Las Vegas residents will remember the incredible buzz the Rio generated when it opened in 1990.
Owned and operated by Marnell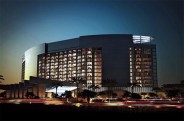 M Resort Preparing for March 1st Opening Carrao Associates, the Rio was Las Vegas' first all-suite hotel and its Brazilian theme initially warmed locals before it expanded and branched out to serve other markets.
Nearly two decades later, another Marnell – Anthony Marnell III, son of Rio developer Anthony Marnell II – is trying to generate the same buzz at the soon-to-open M Resort.
The 400-room property is scheduled to open at 10 p.m. March 1.
The younger Marnell collaborated with his father to build M in a visible location at the corner of Las Vegas Boulevard South and St. Rose Parkway in Henderson. Marnell is pleased that it's the first resort Southern Californians will see when they arrive in Las Vegas on Interstate 15 and the last place they'll see when they leave.
The resort has 351 standard rooms and 39 large suites, a 92,000-square-foot casino with more than 1,847 slot machines, 64 table games, nine restaurants and five bars.
The casino will have a state-of-the-art race and sports book, a live poker room and a high-limit salon with an outdoor terrace. The property will introduce the iMagine Rewards Club card for loyal customers.
Among the restaurants will be Veloce Cibo on the top floor of the M tower, offering meals with a view of the Las Vegas Valley.
Studio B is the name of M's buffet offering. It has a live-action cooking studio and a video wall to present live cooking demonstrations. It, too, has a view of Las Vegas and will capitalize on the Rio standard of multiple live cooking stations.
Other restaurants include Terzetto, a steak and seafood restaurant with an oyster bar, and Marinelli's, an Italian restaurant that overlooks the Villaggio Del Sole Pool and Entertainment Piazza...
The M Resort
12300 Las Vegas Blvd
Henderson, NV 89044
Website: www.themresort.com

The M Resort offers over 92,000 sq. ft. of indoor and poolside gaming, 1,847 slot and video poker machines, 64 table games, Live action poker room, State-of-the-art Race and Sports Book, iMagine Rewards Club, VIP Players Lounge and High Limit Salon with outdoor terrace.