LAS VEGAS, Nevada - As reported by the Las Vegas Sun: "Built on a hill with a dramatic view of the Las Vegas Valley, the M Resort features a television studio for live cooking shows, an on-site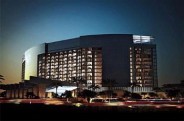 pharmacy, a rooftop restaurant, the world's largest mother of pearl ceiling and a modern design of inlaid wood and cantilevered glass.
But eye candy won't sustain the $1 billion M Resort, which started construction two years ago when Las Vegas was booming and opens Sunday on the southeast corner of St. Rose Parkway and Las Vegas Boulevard South amid a recession with no end in sight.
While competitors grew into corporate giants by taking on billions in debt and building luxurious properties, Anthony Marnell III was taking notes on the dark side of the spending spree.
He saw hotels with automated methods of communicating with customers. He saw gambler swipe cards, points programs and loyalty club kiosks proliferate. He saw rising customer service complaints. He saw gamblers upset by reduced-odds table games and slot machines. He saw outrage over $15 martinis and $90 steak dinners.
His resort, he said, would be different.
Instead of a giant hotel, Marnell would build fewer than 1,000 rooms – about 400, in fact.
His company would be private, with one banker rather than a convoluted financing scheme with multiple loans and hundreds of lenders — all the better for resolving disputes and working through economic challenges.
He would screen potential employees for friendly personalities and put them through weeks of training. He would remind them to interact with customers in a way that's required but rarely done at many casinos. Dealers must smile and greet potential players. Customers walking through the casino can expect a hello, or, if they look lost, a "May I help you?"
He would own and manage the resort's restaurants and bars rather than outsourcing them to third parties, as many properties have done over the years to cut costs or gain specialized expertise. He would create value-oriented menus rather than letting third-party operators set prices based on their profit margins rather than the casino's. He would offer free meals and drinks at any of his venues to any deserving gambler — loyalty card points be damned.
And there won't be a $15 martini or a $90 steak anywhere in sight.
These aren't new ideas. They are as old as Las Vegas. So old, in fact, that they've become myth..."

The M Resort
12300 Las Vegas Blvd
Henderson, NV 89044
Website: www.themresort.com

The M Resort offers over 92,000 sq. ft. of indoor and poolside gaming, 1,847 slot and video poker machines, 64 table games, Live action poker room, State-of-the-art Race and Sports Book, iMagine Rewards Club, VIP Players Lounge and High Limit Salon with outdoor terrace.