LAS VEGAS, NV - Katy Perry will rock Wasted Space Saturday, Feb. 14 at 8:45 p.m. for a special private Valentine's Day concert following her performance at the 51st Annual Grammy Awards.
Katy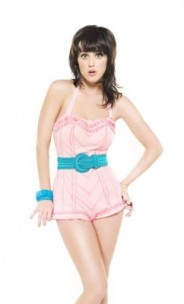 Katy Perry is scheduled to perform live on Valentine's Day inside the Hard Rock's Wasted Space Perry received her first Grammy Award for the category, Best Female Pop Vocal Performance category for her single, "I Kissed a Girl" (which was #1 on the Billboard HOT 100 for seven weeks straight) from her debut album One of the Boys. This 2008 breakthrough new artist has had back-to-back #1 global singles with "I Kissed A Girl" and "Hot N Cold," selling more than 1.5 million albums and almost 10 million singles worldwide.
For guests interested in spending the holiday of love with Katy Perry, table reservations must be made by calling Wasted Space at 702.693.4040. Doors open at 7:30 p.m.
Wasted Space represents the ultimate depiction of the decadent rock and roll lifestyle. The first anti-club of its kind, Wasted Space melds the high-end rock 'n' roll culture with fashion, art and design creating a one of a kind atmosphere and nightlife experience. The 5,000 square-foot nightclub holds approximately 284 people, has 17 tables/booths in the club itself, and five more in the 24-hour Wasted Lounge.
Wasted Space is located inside the Hard Rock Hotel and Casino in Las Vegas.

Hard Rock Hotel & Casino
4455 Paradise Road
Las Vegas, NV 89109
Phone: (702) 693-5000
Toll Free Phone: (800) HRD ROCK
Fax: (702) 693-5010
Email:
info@hrhvegas.com
Website: www.hardrockhotel.com
The Hard Rock Hotel & Casino is a popular destination entertainment resort that was built in 1995. It has over 600 rooms and features over 650 slots and 90 table games. In addition to the hotel and casino, the property has a beach club with a swimming pool that was selected by the Travel Channel as one of the top 10 pools in the world, the Body English nightclub, "The Joint" concert hall, five restaurants, including the world famous Nobu, and an 8,000-square-foot spa and fitness center.