STOCKHOLM, Sweden -- Jadestone Networks, the Nordic based owner and operator of multiplayer gaming networks GamArena and DiceArena, announced today that their new backgammon network is now live and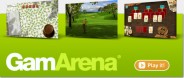 Jadestone's GamArena open for players.
The game is currently available for play at bwin and PAF, and will be rolled out at NordicBet and Triobet over the next few days. Two additional partners will join the network later in the summer and more will come onboard in the fall. With such strong network distribution, the liquidity should be virtually guaranteed.
"We've seen that backgammon is a tremendously popular game," said Tobias Nissen, Business Development Director at Jadestone. "We've had a lot of success with the simplified backgammon version in GamArena, so we're now doubling the stakes by adding the real thing. We're aiming high: we want to become the largest network and be the first choice for dedicated backgammon players across Europe."
Compared to the existing GamArena backgammon, the new version is a complete rewrite, created from scratch with input and support from avid backgammon players. Widely requested features that have been added include:
• Doubling cube
• Match series
• Tournaments
It is fully compliant with all commonly used competition rule sets and includes the same extensive operations and anti-fraud systems as the DiceArena games.
The new backgammon is an integrated part of the Jadestone Arena games network. This means that it shares the interface design, back-end integration API and player identity system with the other Arena games. It is available across Europe with support for 25 languages.

Jadestone networks
Björns Trädgårdsgränd 1
Stockholm 116 21
Sweden
Phone: +46 8 24 05 01
Fax: +46 8 24 05 08
Website: www.jadestone.se/

Jadestone is a young company in the digital entertainment industry. It was founded in 2002 with a vision to become one of the leading online game publishers in Europe. Currently they have 4 product lines from skill, dice and slot games as well as skill games.