BILOXI, Mississippi -- Isle of Capri Casinos, Inc. (NASDAQ: ISLE) announced today that it received site and development approval from the Mississippi Gaming Commission to develop its previously announced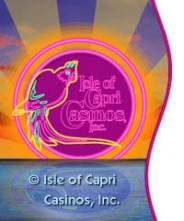 casino resort in west Harrison County, Mississippi. Preliminary plans call for the estimated $250-300 million project to include a single level gaming facility with over 2,000 gaming positions, a 500-room hotel, five restaurants and a complement of additional resort amenities.
"We are pleased with the action taken today by the Gaming Commission and we are excited to be moving forward with this project in west Harrison County," said Tim Hinkley, president and chief operating officer of Isle of Capri Casinos, Inc. "We also appreciate the support we have received from local, state and county officials and we look forward to working with them in the development of this project."
The project remains in the preliminary planning stages, and is subject to certain significant conditions, including, but not limited to, the receipt of all necessary licenses, approvals and permits.
Isle of Capri Casinos
600 Emerson Road
Suite 300
St. Louis, MO 63141
Phone: (314) 813-9200
Toll Free Phone: (800) THE ISLE
Website: www.islecorp.com

Isle of Capri Casinos, Inc., operates 13 casinos in 11 locations. The company owns and operates riverboat and dockside casinos in Biloxi, Lula and Natchez, Mississippi; Lake Charles (2 riverboats), Louisiana; Bettendorf, Davenport and Marquette, Iowa; and Kansas City and Boonville, Missouri. The company also owns a 57 percent interest in and operates land-based casinos in Black Hawk (two casinos), Colorado. Isle of Capri's international gaming interests include a casino that it operates in Freeport, Grand Bahama and a two-thirds ownership interest in casinos in Dudley, Walsall and Wolverhampton, England. The company also owns and operates Pompano Park Harness Racing Track in Pompano Beach, Florida.