PITTSBURGH, Pennsylvania -- As reported by Pittsburgh Business Times: "Forest City Enterprises Inc.'s plan drew the highest score of the three applicants bidding to build a slots casino in Pittsburgh,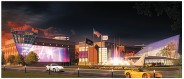 Harrah's proposed Station Square
according to a study released Monday.
"The study, conducted by the City of Pittsburgh's Planning Department, gave Cleveland-based Forest City Enterprises and its partner, Harrah's Entertainment Inc. of Las Vegas, 387.9 points of a possible 600 for its proposal to build a casino and retail and entertainment complex at Station Square on Pittsburgh's South Side.
"City officials, however, cautioned that the study's finding does not mean that they are endorsing the Forest City/Harrah's proposal.
"The Pennsylvania Gaming Control Board, whose seven members will determine the fate of the three applicants, is not expected to award the license until the end of the year.
"The scoring system analyzed such things as quality of location, the financial strength of the proposed casino operator, building design and transportation issues.
"Isle of Capri Casinos Inc., the Biloxi, Miss.-based casino company that is partnering with Nationwide Realty Investors Inc. of Columbus, Ohio in a bid to build a casino in the Lower Hill District, scored a 316.7 on the city planning department's scale.
"A proposal to build a casino on the North Shore by PIT Gaming LLC, headed by Detroit businessman Don Barden, finished last in the estimation of the city's planning department, scoring 274.1 points, more than 100 points fewer than Harrah's . . ."
Caesars Entertainment
One Caesars Court
Las Vegas, NV 89119
Phone: (702) 407-6000
Fax: (901) 762-8637
Website: www.caesars.com

Caesars Entertainment owns or manages through various subsidiaries more than 40 casinos in three countries, primarily under the Harrah's, Caesars and Horseshoe brand names. Caesars also owns the World Series of PokerŪ and the London Clubs International family of casinos.