NEW ORLEANS -- Harrah's New Orleans and the women of HATS! will 'Paint New Orleans Red' beginning January 25, 2007. Inspired by the fabulous women of the Red Hat Society, HATS!, the Musical, opens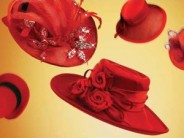 HATS! the musical is inspired by the Red Hats Society.
Thursday, January 25, at the Theatre at Harrah's. Tickets can be reserved by calling 504-593-8008 or visiting
www.harrahs.com/hats
.
On Friday, January 26 at 2:00 p.m. Harrah's will roll out the HATS! Parade, to celebrate the opening of HATS! at Harrah's. The parade will conclude with a 'Mad Hatter'-themed party, open to the public, on Fulton Street.
HATS! is produced by David Gravatt of Dick Foster Productions for Harrah's by special arrangement with Sibling Theatricals, Inc. The show's musical producer, Jerry Lopez and music supervisor, David Richardson are also of Dick Foster Productions. HATS! is directed by Tony Award nominee Lynn Taylor- Corbett (Swing!), and features a score of original songs by some of today's most celebrated songwriters, including three-time Tony Award winner Doug Besterman, Tony nominated lyricist Susan Birkenhead (Jelly's Last Jam, Working), Michele Brourman, Pat Bunch, Gretchen Cryer (I'm Getting My Act Together and Taking It On the Road), Anthony Dodge, Marcia Milgrom Dodge, Beth Falcone, David Friedman, Kathie Lee Gifford, David Goldsmith, Tony nominated composer-lyricist Carol Hall (Best Little Whorehouse in Texas), Tony nominated composer Henry Krieger (Dreamgirls), Stephen Lawrence, Grammy Award winner Melissa Manchester, Golden Globe winner Amanda McBroom, Grammy Award winner Pam Tillis and Sharon Vaughn. Harrah's is using local New Orleans musicians for the show.
"The show appeals not only to women of all ages, but also to the men who know and love them -- their husbands, significant others and adult sons," said Holly Way, Harrah's Entertainment, Inc.'s vice president of marketing for New Orleans and Biloxi.
"We are very excited about the opportunity to bring top-notch musical theater to the city. We believe people from across the South will visit New Orleans to see this show, which is getting great audience reviews."
"HATS! embodies The Red Hat Society spirit in song, in dance, in humor and in pathos," says Sue Ellen Cooper, Exalted Queen Mother of The Red Hat Society. "This is THE show for the woman of a certain age, and everyone who loves her!"
"The Red Hat Society has touched a nerve in the public's imagination, giving The Red Hat Society members a voice," says producer Mitchell Maxwell, "HATS! gives that voice a songbook to sing along with. We've assembled a dream-team of actors and an award-winning team of professionals (all who are 50+) to create a musical celebrating the vitality and perseverance of these inspiring people. If you're 50, you know someone who is 50 or you ever intend to be 50 ... this is a show for you!"
Inspired by the fabulousness of The Red Hat Society, HATS! an original musical about a 49.999 year old woman who reluctantly faces the inevitable BIG five-O birthday until she meets several remarkable Red Hat Society women who show her about fun and friendship after 50.
The Red Hat Society is a self-proclaimed dis-organization for women over 50 from all walks of life who come together for one reason: to have fun. The Red Hat Society officially formed in 1998 when Sue Ellen Cooper and a group of five friends, dressed in purple clothing and red hats, met for afternoon tea. The word quickly spread, and over the past eight years, The Red Hat Society has created a worldwide sisterhood by forming more than 40,000 chapters across all 50 states, and in 30 countries, including Canada, Australia, Mexico, and as far away as Japan and Egypt. For more information on The Red Hat Society, visit www.redhatsociety.com .
HATS! will open at Harrah's Theatre on Thursday, January 25, at 7:00 p.m. Performances are Thursday and Friday at 7:00 p.m., Saturday at 2:00 and 7:00 p.m. and Sunday at 2:00 and 5:00 p.m. Tickets start at $49.00 and can be reserved by calling 504-593-8008 or visiting www.harrahs.com/hats .
Harrah's New Orleans
#8 Canal Street
New Orleans, LA 70130
Phone: (504) 533-6000
Toll Free Phone: (800) VIP-JAZZ
Website: www.harrahs.com/our_casinos/nor/

Just steps from the French Quarter, Harrah's New Orleans offers 2,100 slots plus 10 varieties of table games and more than 100 tables, 20 of which are poker tables. Slot denominations range from penny slots to $500.