DETROIT, Michigan -- Greektown Casino-Hotel announced the addition of four major promotions for the month of June, which will encourage Detroit-area gamers to keep jobs and tax dollars in America by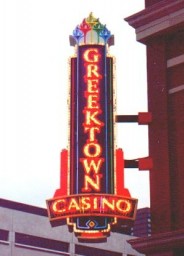 offering players the following:
· A weekly chance to win a brand new American-made 2010 Camaro
· $100 in Bonus Play for the purchase of any American car
· $500 cash every half-hour, between 5 and 9 p.m. Mon – Thurs, June 10 – 30
· A match to slot play and hotel offers made by Caesars Windsor
"More than $200 million in gaming revenue is exported each and every year across the border," said Randall A. Fine, Managing Director of The Fine Point Group, the management company overseeing Greektown. "If we could keep those dollars in Detroit, we could create thousands of American jobs – and contribute $40 million sorely-needed dollars to the City of Detroit and the State of Michigan. We call on each and every Detroit-area player to reconsider all three Detroit area-casinos, and at Greektown, are committed to doing our part to earn that business."
"With the American auto industry, and particularly Detroit, under severe economic pressure, combined with tougher, new border regulations taking effect on June 1 that make it more difficult and expensive to travel to Canada, we're launching these promotions to encourage our guests to stay and play American," said Amanda Totaro, Vice President of Marketing for Greektown Casino-Hotel. "We've made this effort a priority in June to prove to our customers that we will give them a better value for their gaming dollar right here at Greektown. In fact, Greektown will match any and all slot play and hotel offers from Caesars Windsor to reinforce the stay and play American theme. We're committed to offering our players more ways to win and have fun, while throwing tremendous support behind the backbone of our economy – American business."
Greektown's "Play American" initiative is comprised of four promotions that support American jobs and businesses, both inside and outside the casino. The casino is giving away a 2010 Chevrolet Camaro every week from June 1 through June 28. In addition, customers who can prove they purchased an American car in the month of June will get $100 in Bonus Play. And, from June 10 to June 30, Greektown will give away $500 cash every half-hour between 5 and 9 p.m. every Monday through Thursday. Finally, during the month of June, Greektown will match slot play and hotel offers from Caesars Windsor.
In addition to the "Play American" promotions, Greektown is holding the "Chick-Tac-Dough Final Chicken Challenge" on June 9. During this event, lucky winners who played "Ginger" the Casino Chicken for the past two months will have their chance at $35,000 in Bonus Play.
Please visit CLUB Greektown for complete rules and additional details. Management reserves all rights

Greektown Casino
555 East Lafayette Avenue
Detroit, MI 48226
Toll Free Phone: (888) 771-4FUN
Website: www.greektowncasino.net

Greektown Casino is the only 100 percent Michigan-owned gaming destination in Detroit. The Sault Ste. Marie Tribe of Chippewa Indians currently holds a 90-percent interest in the casino and a group of Detroit residents controls 10 percent. Greektown Casino has over 2,400 slot machines, 80 table games and a poker room.