DETROIT, MI - As reported by The Detroit News: "After numerous construction delays, financing problems and even bankruptcy, the long-awaited Greektown Casino-Hotel expects to open this weekend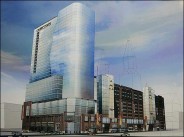 Artist's rendering of the new Greektown permanent casino. with glitzy but stylish décor, "Go-Go girls" in the bar and $99 introductory rates, hotel officials said Monday.
Just in time for Valentine's Day and the long Presidents' Day weekend, the 400-room, contemporary hotel plans to debut its signature restaurant, Bistro 555, at 5 p.m. Thursday and welcome overnight guests Friday, said Bill Williams, vice president of guest services.
"We want to get heads in beds and keep the operation full -- it's all about volume," he said Monday on a tour of the blue-glass-ensconced hotel that soars 30 stories above Monroe Street.
"This is the last, critical piece of our puzzle. It allows us to reach further out and expand our market ... and it's great for our casino customers who want to stay overnight or make a weekend of it without worrying about driving home."
As the smallest and last to open of Detroit's three casino hotels, Greektown has omitted higher-end frills, such as a spa, to keep rates affordable, Williams says.
But the newest hotel on the block is not short on amenities, including slick, contemporary décor with a retro touch in public areas, valet parking, wireless Internet throughout, and a fitness center with 14 Cybex treadmills, bikes and other machines.
Hotel rooms are done up in warm tones of burnt orange and maple, and feature 42-inch flat-screen TVs, mini-bars, iPod docking stations, plump duvets and 300-thread-count sheets, coffeemakers, hairdryers, ironing boards and electronic safes.
The 29 suites (two- or three-room) boast bathrooms with bubble tubs, 50-inch flat-screen TVs and great views of the city and Detroit River. Nightly rates range from $250 to $1,000..".
Greektown Casino
555 East Lafayette Avenue
Detroit, MI 48226
Toll Free Phone: (888) 771-4FUN
Website: www.greektowncasino.net

Greektown Casino is the only 100 percent Michigan-owned gaming destination in Detroit. The Sault Ste. Marie Tribe of Chippewa Indians currently holds a 90-percent interest in the casino and a group of Detroit residents controls 10 percent. Greektown Casino has over 2,400 slot machines, 80 table games and a poker room.