BATTLE CREEK, Michigan -- One year after the Nottawaseppi Huron Band of the Potawatomi (NHBP) began construction on FireKeepers Casino and before its anticipated opening in Summer 2009, the $300 million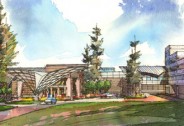 Artist's rendering of the FireKeepers Casino, set to open in Summer 2009 project is already making an economic impact in Michigan.
FireKeepers is expected to create approximately 2,200 jobs — 700 construction and 1,500 permanent jobs. The casino is also projected to generate additional jobs in Southwest Michigan when in full operation. Since construction began on May 7, 2008, the Tribe has made a concerted effort to use business suppliers and labor in the local community and surrounding areas to build and support FireKeepers Casino.
"The Tribe is pleased to see the progress we're making in the construction of FireKeepers Casino and the local economic activity generated from the project," said Laura Spurr, Tribal Chair of the Nottawaseppi Huron Band of the Potawatomi. "FireKeepers has become a much needed economic boost to not only our Tribe but to the region and the state."
Construction Status
The project is in the finishing stage. Crews are laying carpet, painting walls, positioning cameras and restaurant equipment and will soon begin the installation of slot machines and tables for blackjack, craps, and other card games. Approximately 235 workers representing various trades are on site daily, including painters, carpet and tile installers and bricklayers.
"It is amazing that one year ago, this site was a cornfield," said Duane Wixson, Senior Project Manager for Clark Construction. "Our incredible progress is a reflection on the leadership of the Tribe and Gaming Entertainment (Michigan) The hard work and effort from our construction team has also contributed to the exceptional quality of this casino."
Construction Economic Impact
The Tribe's commitment to work with local area suppliers, has resulted in:
· Hiring 63 subcontractors from Michigan including:
o Greater Calhoun County region – 7 subcontractors
o West Michigan – 17 subcontractors
o Lansing– 10 subcontractors
o Ann Arbor – 4 subcontractors
o Metro Detroit – 6 subcontractors
o Tri-Cities – 4 subcontractors
· Awarding contracts to subcontractors in excess of $100 million.
· Employing 700 construction workers
· The majority of the construction workforce lives within 60 miles of the project
· Generating a projected $8 million construction related payroll
· Purchasing $70 million of construction material
Local Workforce Economic Impact
FireKeepers Casino will employ approximately 1,500 full and part time associates when the casino opens in Summer 2009.
· 180 people have been hired for administration and operations
· 300 pre-qualified individuals began training at Dealer School this week with the hope of being hired as a FireKeepers table game dealer
· FireKeepers has received more than 28,000 applications for employment through its website
· Applications will continue to be accepted at FireKeepers' recently revamped website: firekeeperscasino.com
FireKeepers Casino
FireKeepers Casino, located directly off I-94 at Exit 104 in Battle Creek, will offer Las Vegas-style gaming with 2,680 slot machines, 78 table games and a 12 table live poker room and a bingo room. FireKeepers will offer five distinctive dining destinations and multiple lounges and entertainment venues.
"FireKeepers Casino will offer Southwest Michigan an exciting new entertainment attraction," said R. Bruce McKee, General Manager of FireKeepers Casino. "We look forward to providing our guests with the highest level of guest service in an exciting and vibrant atmosphere. FireKeepers will have something for everyone, from outstanding dining options to a fun gaming experience."
About FireKeepers Casino
FireKeepers Casino is located just off Interstate 94 at Exit 104, minutes east of Battle Creek, Michigan. When completed in late Summer 2009, the property will have a 107,000-square foot gaming floor with 2,680 slot machines, 78 table games, a live poker room and bingo room. FireKeepers will also offer five distinctive dining destinations and multiple lounges and entertainment venues.

FireKeepers Casino
Battle Creek, MI
Phone: (269) 789-0373
Website: www.firekeeperscasino.com

Opening in summer 2009, FireKeepers Casino will offer over 2,600 of the latest slot and video poker games; 78 table games including blackjack, craps and roulette; a live poker room and exclusive high limit areas and VIP lounge, you'll see why FireKeepers is Battle Creek's newest gaming hotspot.