LOUISVILLE, Kentucky -- Churchill Downs today announced that it has reached a definitive agreement to sell Ellis Park, its racetrack in Henderson, Ky., to a company owned by Kentucky businessman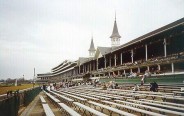 Ellis Park has been sold by Churchill Downs.
and racehorse owner Ron Geary. The transaction is not material to CDI's results of operations; consequently, financial terms will not be disclosed. The transaction is subject to customary closing conditions and is expected to be completed in the third quarter of 2006.
Since the transaction will not close before the start of Ellis Park's 2006 race meet on July 19, CDI has signed a management agreement with Geary, which was endorsed today by the Kentucky Horse Racing Authority ("KHRA"). Geary will manage operations at the track until the sale is complete. Ellis Park will remain part of the Churchill Downs Simulcast Network ("CDSN") for a period of time and will have the option to continue its affiliation with CDSN.
The parties have also reached an agreement regarding their applications for race dates in early July for a period of five years after the agreement is completed. Ellis Park had traditionally run early July dates, including the Fourth of July holiday. In recent years, those dates were run at Churchill Downs. Going forward, CDI and its Louisville racetrack, Churchill Downs, will not apply for race dates beyond the first week of July, and the parties will jointly seek approval from the KHRA to run concurrent race dates for the week surrounding the July 4 holiday.
"Churchill Downs Incorporated is pleased to have found for Ellis Park a new owner who is passionate about horse racing and ready to focus his full attention on the track and its prospects for the future," said Michael E. Miller, CDI's executive vice president and chief financial officer. "Ellis Park is an important link in our state's year-round racing circuit and provides a summer 'home' for Kentucky-based horsemen. CDI acquired Ellis Park eight years ago to preserve that year-round circuit. Today, we believe Ellis Park will benefit from an independent operator such as Ron Geary, who as a successful businessman and racehorse owner approaches this new opportunity with enthusiasm and a vision for this historic property. While we believe selling Ellis Park is both the right decision for the track and for our Company, we will miss having the Ellis Park team members as part of our family of employees. Their love for and dedication to Ellis Park and its racing tradition is truly admirable."
"I am excited to take the reins at Ellis Park at a pivotal time in the track's 85-year history," said Ron Geary. "The track has faced its share of challenges to be sure, including a tornado that almost leveled the facility. But today, a rebuilt and rejuvenated Ellis Park is focused on the future and ready to welcome horsemen and race fans back for another season of live racing. I am focused on building a solid future for Ellis Park and look forward to working with the Ellis Park team and our Kentucky horsemen to keep Ellis Park a popular spot for summer racing for years to come."
Geary recently retired as president and chief executive officer of ResCare, a Louisville-based, publicly-held provider of training services and services to persons with developmental and other disabilities. Previously, Geary served three years as president of the Cincinnati Bible College and four years as secretary of revenue of the Cabinet of former Kentucky Gov. John Y. Brown.
A news conference to discuss the pending sale will be held Tuesday, July 18, at 10 a.m. CDT at Ellis Park in the Gardenia Room. Ron Geary and Steve Sexton, senior vice president of CDI's Kentucky operations and president of Churchill Downs and Ellis Park, will be available to brief media representatives and respond to questions.
Churchill Downs Incorporated
700 Central Avenue
Louisville, KY 40208
Phone: (502) 636-4502
Website: www.churchilldownsincorporated.com

Churchill Downs Incorporated, headquartered in Louisville, Ky., owns and operates world-renowned horse racing venues throughout the United States. CDI's six racetracks in Florida, Illinois, Indiana, Kentucky and Louisiana host many of North America's most prestigious races, including the Kentucky Derby and Kentucky Oaks, Arlington Million, Princess Rooney Handicap, Louisiana Derby and Indiana Derby.